PAMELA GELLER IS RIGHT: IF ISLAM 101 IS NOT SAVAGERY, THEN WHAT IS……..
There is no way of knowing if the savagely murdered men were even remotely guilty of the theft of a rickshaw. Savage vigilantism is a key crucial element in maintaining an Islamic society, it's why a civil society can never develop as long as Islam has a leading role in it, or any role at all.
H/T: Vlad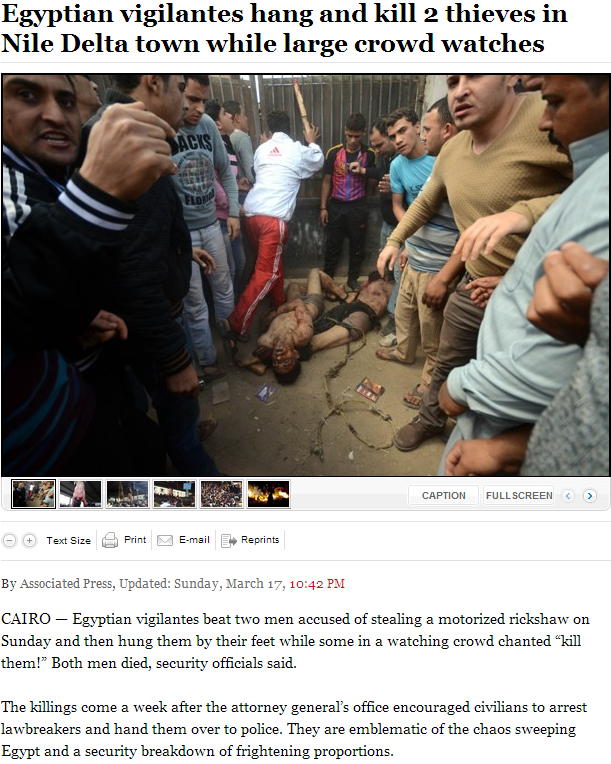 It was one of the most extreme cases of vigilantism in two years of sharply deteriorating security following the 2011 uprising. Gruesome photos circulated quickly on Facebook and other social media outlets, showing images taken by people in the crowd of thousands who watched and recorded the lynchings on cell phone cameras.
The killings were in the town of Samanod, about 55 miles (90 kilometers) north of Cairo in the Nile Delta province of Gharbiya.
Mamdouh al-Muneer, spokesman for the Muslim Brotherhood group in the Gharbiya governorate, told The Associated Press that the lynchings followed a spate of rapes in the area. He said there have been a number of incidents in the past several months of girls being abducted while leaving school.
"Unfortunately, the police are completely out of the picture in Gharbiya. They are not comfortable with their position, with the president or with their role after the uprising," he said.
The Brotherhood is the country's dominant political group.
More here. Videos via: Magic Martin