It's just another reason why the fake media is loathed by a growing number of people like myself. They're immoral mental midgets and they suck. If I were there, I would have my shepard's staff at the ready, just like in the Gong Show, to place around the offending journalist's waist, and drag them the hell out of there. Are they freaking kidding me? Read the following paragraph then tell me whether the fecal head reporter should be fired from her position?
CNN: There's an Egyptian woman, Samira Ibrahim, and she's done a lot of things, some courageous things, she's also been criticized for sending tweets that are anti-Semitic, anti-American, does the U.S. need to accept that? When you want to make change, you have to support people who do that, financially, in terms of awards, in terms of all these things – because it pays off in the end? Is that a trade-off we have to make?
Mind numbing stupidity.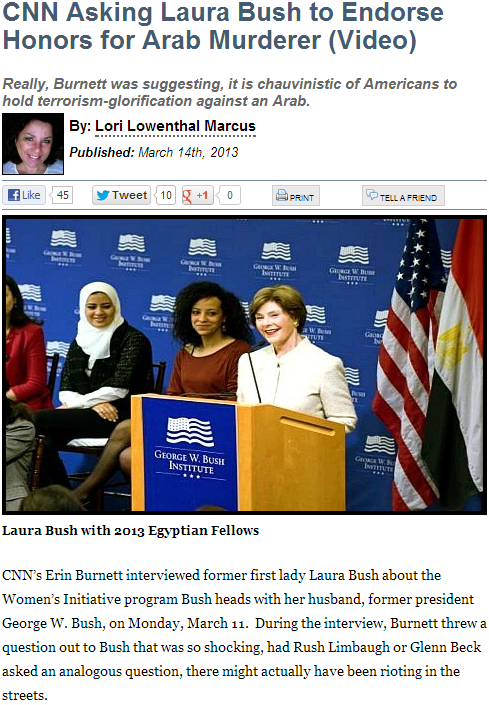 Burnett seemed to be strongly implying to Bush that Americans should reward and honor someone who bravely protested their own mistreatment even if that person (repeatedly) cheered the brutal murders of Americans and Israelis.  To withhold an Arab's reward on the basis of terrorism-glorification is merely American chauvinism, was Burnett's suggestion.
The CNN host appeared to be trying to get Bush to see that if the U.S. wants to see Egypt and other countries in the Middle East prosper, we cannot hold their heroes to western ethical standards.
Bush was a guest on "OutFront," Burnett's CNN show.  "Designed to showcase Erin's unique style – casual, smart, and confident," is how CNN describes the show.  Two out of three ain't bad.
The Women's Initiative Fellowship Project is a part of the George W. Bush Institute.  The WIF project helps women in the Middle East develop the necessary skills to become effective leaders and build a stronger civil society. The Fellows study leadership skills, exchange expertise, and learn to advocate for social stability.  On Friday, March 8, International Women's Day, Bush celebrated the graduation of WIFP's first class of 14 Egyptian Fellows, and welcomed the incoming 19 Fellows of the 2013 class.