Now that's proof that the media are gunning for Lars, that they have him in their cross hairs, the hammer cocked and their fingers on the trigger.
Is there any reason why we shouldn't loathe the media? No matter the Western country in question, the profession is littered with abominable hacks with no ethics whatsoever. Utterly disgusting as it is amazing.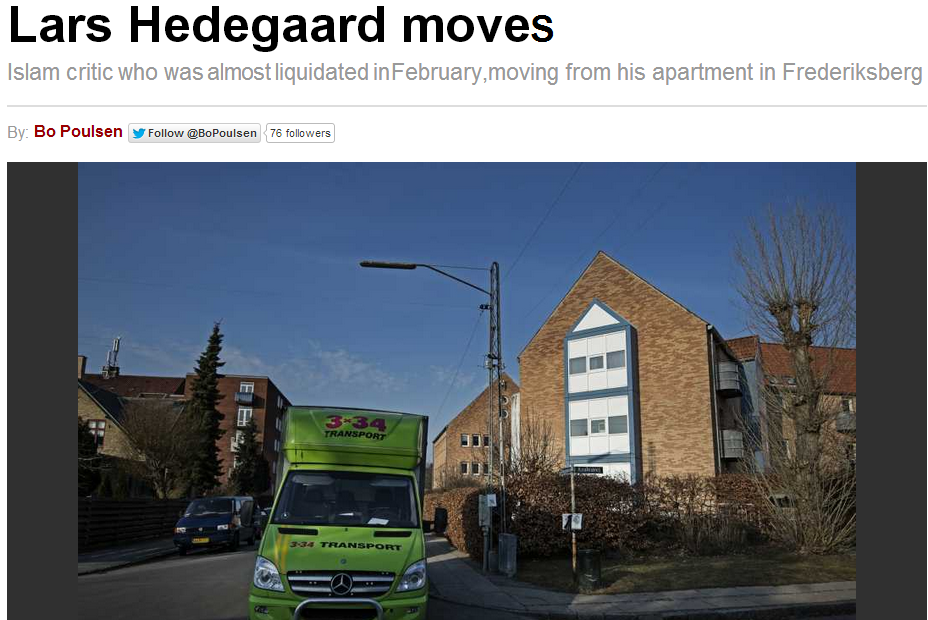 EKSTRABLADET: Yesterday, Lars Hedegaard's apartment on Pelargonievej 7 in Frederiksberg was cleared by a team of removal men. It's barely a month after the 70-year-old Islam-critic was nearly shot dead in his home by a man who pretended to be a postman.

There was no visible presence of either police or PET at the address, but there was one police car, which explored the neighborhood once.

Moving the men spent a little over an hour to fill 3×34-trailer up, and after it went final against Lars Hedegaard's new address.

Stopped by police

ekstrabladet.dk's two followed the moving van that ran through Valby, Vigerslev and Rødovre. But before that moving van carrying Hedegaard's belongings reached its final destination, the two journalists were very convenient stopped by a motorcycle cop.

Without any justification, the driver was asked to show his license, while they could see moving van disappearing into the horizon. After a few minutes the officer returned and said that everything was in order and that they could continue.

They did so – but with the officer right in the rearview mirror and a few meters after the car. It did not take long before reporters were stopped once again.
Media Try to Report Lars Hedegaard's New Address
Cynical as I am about the media's stance toward critics of Islam, even I was taken aback by an article that was posted Thursday evening on the website of the Danish newspaper Ekstra Bladet,and that I assume appeared in Friday's print edition.
Headlined "Lars Hedegaard moves" and written by Bo Poulsen, the article began by informing readers that on the previous day the possessions of the Islam critic, who survived an assassination attempt last month at his apartment in the Copenhagen suburb of Frederiksberg, had been loaded into a moving van and driven off. The article is accompanied by a picture of the moving van outside Hedegaard's former residence.
Here's the kicker. Two Ekstra Bladetstaffers, presumably Poulsen and a photographer, were in a car watching the moving men load the van, after which they followed it. And Poulson – here it is – actually describes the route taken by the van. If you plot the course of the van on Google Maps, to be sure, it looks rather meandering, as if the moving men were aware of the two reporters on their tail and were trying to shake them off.
More here. Via TROP