Tough talk now, just wait until the exhibit opens.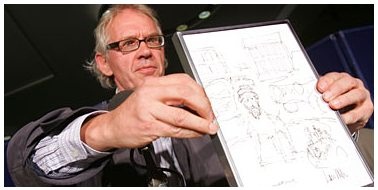 Lars Vilks main drive in showing these drawings is in fact "to remove the stigma surrounding the criticism of Islam." He proves his point either way regardless of the response. Also, his critics that talk of him "encouraging racism and Islamofauxbia" are simply talking out of their behinds. It is no more racist to criticize or even condemn Islam, than it is racist for critics to disparage Christianity.
NOTE: I'm sure Vilks is unfazed by Radio Sweden's article.
H/T: Fjordman
Malmö religious leaders "unfazed" by Vilks exhibit
Representatives from a number of religions in Malmö agreed on Monday not to be provoked by an exhibition opening this summer showing controversial depictions of the Prophet Muhammad by artist Lars Vilks, news agency TT reports.
"They will be speaking to their members about ignoring Vilks incitement. Let him be alone with his paintings," said Björn Lagerbäck, chair of a community council under the city of Malmö.
Vilks says his depictions of Muhammad serve to remove a stigma surrounding criticism of Islam, while critics describe his art as encouraging racism and Islamophobia.