A racially motivated tragedy indeed.
Racism extends both ways, it always has, only the radical Left would have you believe that it's an exclusive trait of white Europeans. This is a sad case, and such behavior should never be condoned nor turned a blind eye to, regardless of what race or ethnicity he hails from.
NOTE: Notice that even in the article that sympathetically reports the case, the journalist refers to the majority of the deceased boy's fellow classmates  as "pupils come from ethnic backgrounds". Excuse me?
This child who murdered himself also comes from an ethnic background as well, most likely English. See how it's ingrained within the profession to never view the host population as an ethnicity themselves? It would have been correct to say that 75% of his fellow students come from foreign backgrounds, but that fails the absurd political correctness standards of the day.
H/T: Scottish Infidel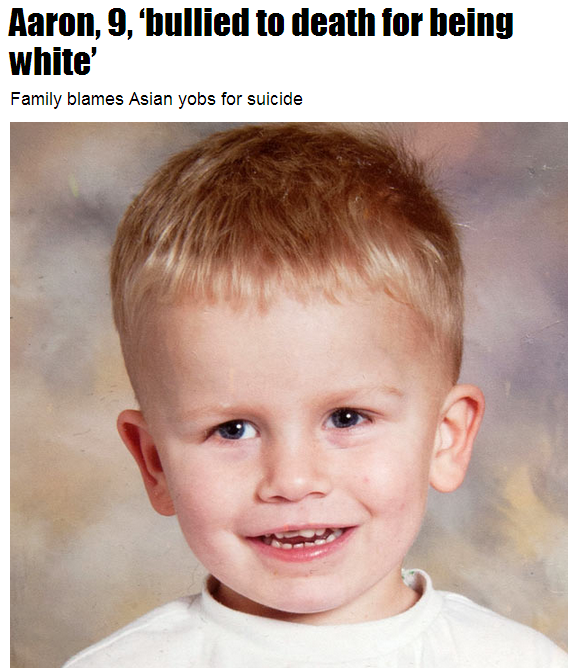 THE devastated family of a nine-year-old boy who hanged himself say he took his life after racist taunts by Asian bullies.
Aaron Dugmore — thought to be one of Britain's youngest suicides after bullying — was found in his bedroom after months of jibes at school, they claim.
His family say that Aaron was threatened with a plastic KNIFE by one Asian pupil — who warned him: "Next time it will be a real one."
But despite complaints to the school, where 75 per cent of pupils come from ethnic backgrounds, they claim nothing was done to stop the bullying.
Heartbroken mum Kelly-Marie Dugmore is convinced the taunts led to her son killing himself two weeks ago. She sobbed: "We are not racist people. Aaron got on with all the children at his last school, and for him to have been bullied because of the colour of his skin makes me feel sick to my stomach."
Aaron joined Erdington Hall primary in Birmingham last September after the family moved nearby. But Kelly-Marie, 30, and stepdad Paul Jones, 43, noticed a change in him from his first day.