The "Arab Spring" that never was. Absent of an already up and running civil society, the "democracy project" was doomed from the start.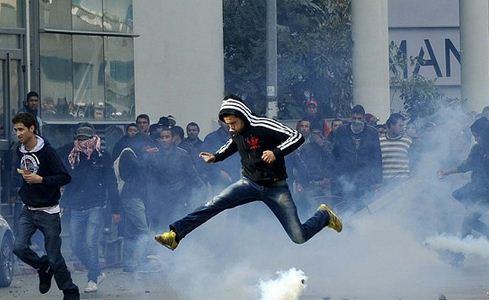 Tunisia in turmoil as prime minister offers to dissolve parliament
Tunisia's Islamist prime minister on Wednesday night offered to dissolve parliament and form a unity government after the assassination of a leading secular politician set off the country's worst crisis since the Arab Spring.
Thousands of protesters rampaged through cities yesterday after Shokri Belaid, 48, head of the small left-wing, anti-Islamist Democratic Patriotic party, was shot three times in the head and chest as he left his home in the capital Tunis.
A figure wearing the traditional Tunisian hooded robe, the burnous, was seen running away from the shooting.
Mr Belaid had been a vocal critic of Islamist violence, accusing the ruling party, Ennahda, and its leader, Rachid Ghannouchi, of secretly sympathising with the perpetrators and not doing enough to tackle them.
His family quickly blamed Ennahda for his assassination, with his wife, Basma, saying he had received daily death threats.
"I saw his blood flowing, I saw his little smile. I saw that they want to kill democracy," Mrs Belaid told France's Europe 1 radio.