More male wimps.
Let me see here, a 37 year old on fake documentation who likes the democratic west. What's not being asked  here is, why doesn't he stay put and fight for pluralist democracy on his home turf? If he likes democracy so much, he should prove it, and fight against the Assad regime and the jihadists.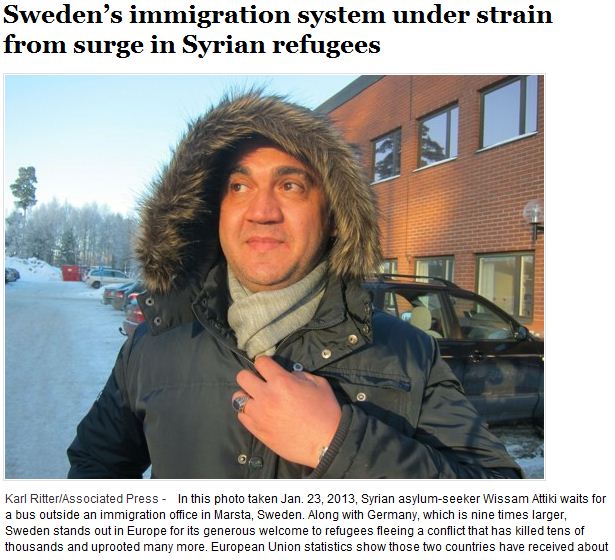 MARSTA, Sweden — Wisam Attiki was drawn by the tales of Nordic refuge: All he had to do was set foot in Sweden, his fellow Syrians said, and the rich, peaceful nation would let him stay.
Still, the 37-year-old from Damascus was surprised at how little fuss there was when he arrived last week at Stockholm's Arlanda airport on a flight from Turkey. He said the Swedish border police showed sympathy when he confessed that his travel documents were fakes that he had bought for €9,000 ($12,000).
"I'm from Syria. I need help," was all he had to say to gain entry, Attiki told The Associated Press. He had just spent his first night in Sweden at a reception center for asylum-seekers in Marsta, a suburb near the airport.
Along with Germany, which is nine times larger, Sweden stands out in Europe for its generous welcome to refugees fleeing a conflict that has killed tens of thousands and uprooted many more. European Union statistics show those two countries have received about two-thirds of the Syrians seeking shelter in the 27-nation bloc.
But Swedish officials say the influx is taking a toll on their immigration system.