There are many reasons why Hagel shouldn't be considered for sec-defense, there's enough evidence against him to bar any reasonable consideration, that Hagel chose to speak to J-Street and finds himself among friends, is the coupe de grace against his candidacy.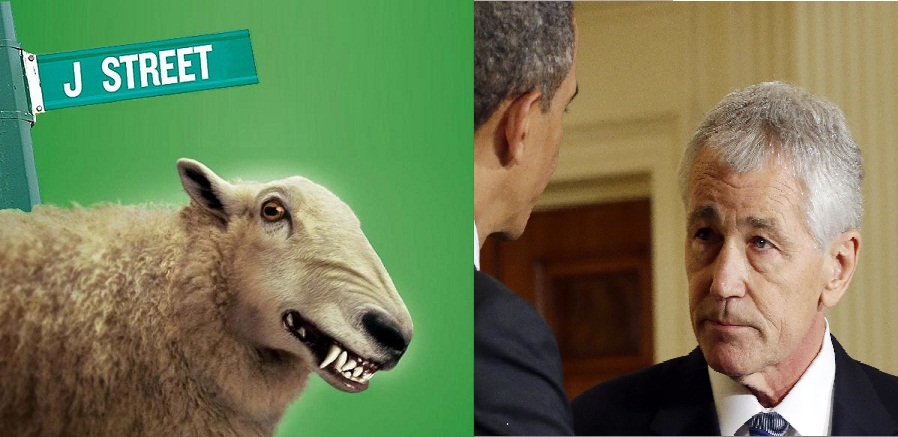 EXCLUSIVE: The Chuck Hagel tape J Street doesn't want you to see [Updated]
Right Turn has learned from multiple Senate sources that the left-wing group J Street, which has backed such anti-Israel measures such as a U.N. Security Council condemnation of Israel, a letter favoring Palestinians' request to lift the blockade on Gaza and the infamous Goldstone report, is refusing to provide a video of Chuck Hagel speaking before the group's conference in 2009.
Senators were tipped off that Hagel departed from his prepared remarks and made controversial comments to the J Street Conference. In exchanges with Senate Armed Services Committee staff, J Street volunteered the prepared remarks and said it decided not to provide the complete video for fear that Hagel's remarks would be taken out of context.
It is extraordinary that any group would deny material relevant to a confirmation hearing, especially in the case of public remarks on a highly relevant topic.
[…]
Update (6:50 p.m.): Late this afternoon, a few hours after this post was published, J Street contacted the Senate Armed Services Committee to report it would post the entire video of Hagel's 2009 speech online.
The video is via Israel Matzav.