So you can just imagine what will happen to the Assad regime's arsenal when that regime implodes. It may not be on the same level as in Libya. but the Russian backed Syrian military has even more extensive high tech weaponry, as well as WMD's. It's a worst nightmare scenario.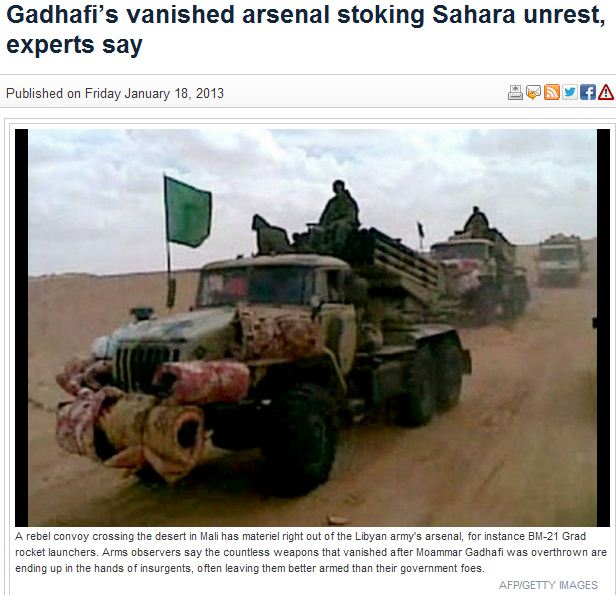 Peter Bouckaert could hardly believe his eyes. As Libyan dictator Moammar Gadhafi lay dying in October 2011, rebel militias were speedily stripping the carcass of the regime of the vast arsenals of weapons that had ensured his 42-year reign.
"I've worked around the world and covered conflicts for 15 years," Bouckaert, veteran emergencies director for Human Rights Watch, told The Star last fall. "I've never seen weapons proliferation like Libya. The militias got their hands on weapons on a scale many times greater than other conflicts."
As he watched, anti-aircraft guns, truckloads of munitions, surface-to-air missiles, even tanks were disappearing into the desert, bound for unknown destinations.
Now those same deadly weapons are surfacing in Mali, where rebel militias allied with Al Qaeda have declared a breakaway state in the north, and are battling French and Malian forces as they attempt to hold new territory in the central part of the country.
The Libyan weapons are flowing unchecked through the chain of impoverished, unstable countries across the Sahel region. And experts who warned of the risk posed by uncontrolled Libyan arms say that whatever the outcome of the fighting in Mali they have changed the balance of power in the region, threatening havoc and instability for years to come.