Hey dufus, it's called "doing your job".
Denying him immediate entry into the U.S. is a lesser offense than the denying of passengers of their own lives. He should be thanking the custom officials for going the extra yard in trying to protect passengers of the plane and citizens in general, including himself, from Islamic terrorists. It's just a fact of life that Islamic fundamentalist Somalis make up an over representation of the terror racket being waged around the globe. Get used to it.
NOTE: Mo Farah's anger is directed towards the wrong people, it's not U.S. Customs officials to blame, but his fellow coreligionists. What a prima donna douchebag.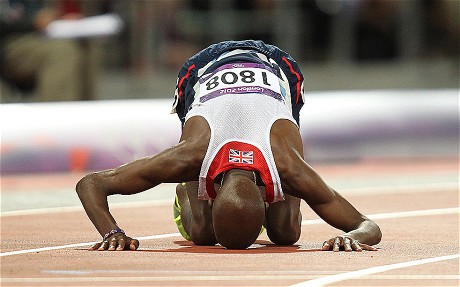 Double Olympic gold medalist Mo Farah quizzed by customs officials in 'terror bungle' at U.S. airport
Olympic star accuses border guards of hauling him in for questioning

London 2012 star blames their suspicions on his 'Somali origin'

Said he received letter saying he was 'under investigation as terrorist threat'

Revealed he was allowed to re-enter when his American coach intervened

Farah previously moved to the U.S. to train before his Olympic glory

By MARIO LEDWITH
PUBLISHED: 00:26 GMT, 30 December 2012 | UPDATED: 01:34 GMT, 30 December 2012
British Olympic hero Mo Farah has revealed how he was quizzed by U.S. border officials on suspicion of being a terrorist.

The double gold medal winner, who was awarded a CBE in the New Year's honours list, said he was hauled before guards while entering the country for a holiday this Christmas.

The 29-year-old runner told The Sun that border guards questioned him because of his 'Somalia origin'.
The athlete even resorted to showing his Olympic medals in an effort to prove who he was.
The athlete said: 'I couldn't believe it. Because of my Somali origin I get detained every time I come through U.S. Customs.'
Farah said he had to resort to 'getting his medals out' to prove who he was, as he was conveniently carrying them in his luggage.
Farah, whose triumphs in the 5,000 metre and 10,000 metre races provided two of the most exciting moments of London 2012, trains in the U.S.