And her country continues to be full of antisemites.
It's a historical fact that, the southern formerly Swedish (now Islamized) city of Malmö, was a bastion of Nazi support during the 30's and the 40's, and is presently sticking true to it's anti-Jewish heritage, albeit, with a whole new host of characters.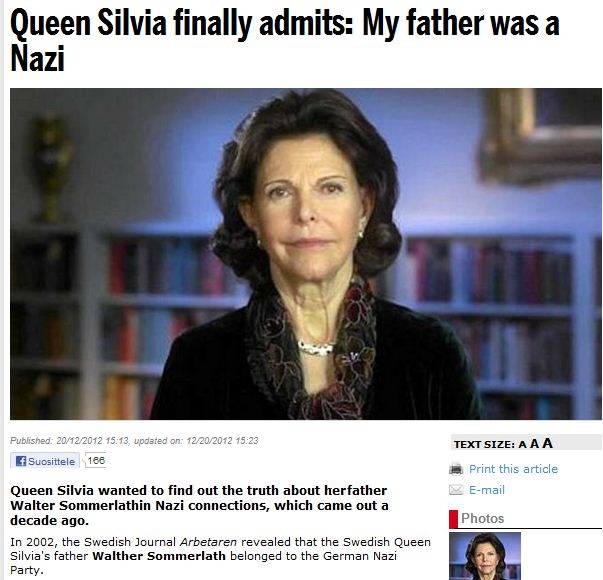 In the spring of 2010, Queen Silvia answered questions about her father's background in a television interview. Silvia then confirmed that her father was politically active. The queen thought that her father's factory manufactured, among other things, children's electric trains, hairdryers and gas masks for civilian use.
When the father's Nazi background emerged in the media, Silvia was confused and wanted to know the truth.
Kungahusetin web video released on Thursday, in which Silvia says a study trip to a dark family secret.
– Many may wonder why I did not correspond to any of the questions my father's background. It is not just the fact that it is very emotional for me, and it took the research and knowledge, Silvia says the video.
The road to the search for truth was long. Silvia took the first contact of his native Brazilian authorities. Her father, Walter Sommerlath had moved to the country in 1937 in Germany.
Queen of documents found dormant in his family history, and received help from German and Brazilian researchers.
– I was surprised greatly by the fact that my father joined the Nazi Party member at a very early stage, in 1934, the year Hitler came to power. It has affected my family deeply. Racism was and is a terrible thing, Silvia says.
She says he was thinking a lot of racism against the war. Silvia laments how the Jews were treated cruelly, violated their freedom, dignity and identity, in particular by the authorities.
More here in Finnish