There's no doubt, it will be approved.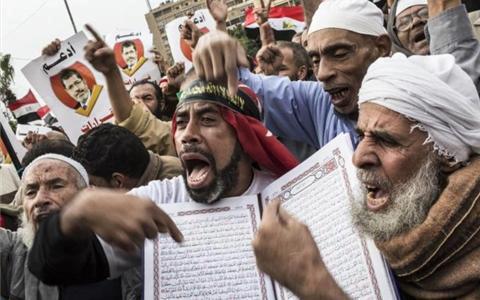 Egypt holds 2nd stage of constitutional referendum
By REUTERS
12/22/2012 07:16
Egyptians head to polls again after first round of voting saw 57% of public say "yes" to Islamist-drafted charter; analysts expect constitution, which has divided the Arab world's most populous country, to be approved.
PHOTO: REUTERS
CAIRO – An Egyptian constitution drafted by Islamists is expected to be approved in a referendum on Saturday after the charter, which opponents say will create deeper turmoil,won approval in a first wave of voting a week ago.
The opposition have already cried foul, saying a litany of abuses means last Saturday's ballot, involving about half the electorate, should be re-run. But the committee overseeing the two-stage vote said their investigations showed no major irregularities that would invalidate the process.
Islamist supporters of President Mohamed Morsi, who was elected in June, say the constitution is vital to moving Egypt towards democracy two years after Hosni Mubarak was overthrown in a popular uprising. They say it will help restore the stability needed to fix an economy that is on the ropes.
If the basic law is passed, a parliamentary election will be held in about two months.
Polling stations open at 8 a.m. (0600 GMT) and close at 7 p.m. (1700 GMT), though voting is likely to be extended as it was last week. Unofficial tallies are likely to emerge within hours, but the referendum committee may not declare an official result for the two rounds until Monday, after hearing appeals.