And these immoral a-holes dare stand in judgement of Israel?
This kind of appointment is part and parcel of how the UN operates. It's edicts (resolutions) and court verdicts should be judged under that rubric, hence the Tundra Tabloids' labeling ofits vindictiveness against Israel as being "Jim Crow" inspired. The UN needs to be disbanded, and cell phones passed out to all who exist the building.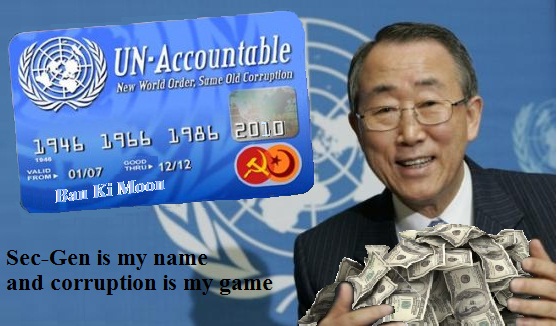 Democracies Silent as U.N. Human Rights Council Elects Country Where Slavery Exists to Leadership Post
(CNSNews.com) – The U.N.'s top human rights body marked Human Rights Day on Monday by electing three countries with poor human rights records as vice presidents for the coming year – including one of the last remaining countries where slavery exists.
At a meeting in Geneva, members of the U.N. Human Rights Council elected Mauritania, the Maldives and Ecuador as three of its four vice presidents for 2013. Switzerland got the fourth vice-presidential slot, while Poland was elected president.
According to U.N. Watch, a non-governmental organization that monitors the HRC, none of the democracies on the HRC had "said a word about the election of Mauritania or Ecuador."
The Obama administration last month won a new three-year term on the 47-member council, a centerpiece of its policy of deepening multilateralism through U.N. institutions.
Starting in 2013, the U.S. will be joined on the HRC by 22 other countries rated as "free" by the Washington-based democracy watchdog Freedom House, 10 countries that it says are "not free," and 14 "partly free" countries.
In Freedom House rankings, which are based on scores for political rights and civil liberties, Mauritania is "not free" while the Maldives and Ecuador are "partly free."
[…]
Ruled by a former military coup leader, Mauritania is a North African Islamic state where conversion to another faith is punishable by death. The country's criminal code provides for a three-day period of reflection and repentance for any Muslim found guilty of apostasy. "If he does not repent within this time limit," it states, "he is to be condemned to death as an apostate and his property will be confiscated by the Treasury."
Homosexual acts also carry the death penalty in Mauritania.
Slavery of black Africans has been rooted in Mauritanian society for centuries According to activists, up to 18 percent of the population may still be in slavery today.