Utter nonsense.
The mind of a socialist is a terrible waste of space.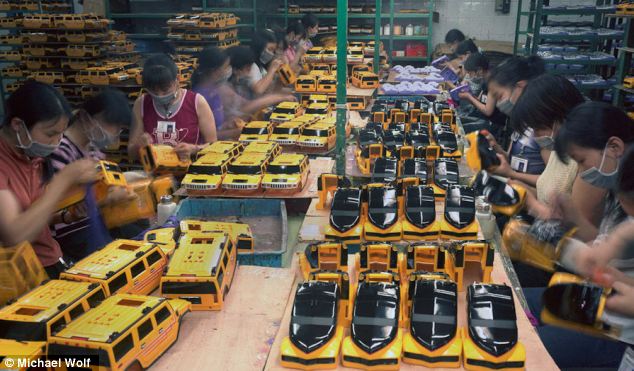 In what's meant to horrify the reader, I however take a different approach. First ask yourself, why is it that the journalist writing this story for the Daily Mail, fails to report what are the overall wages of other Chinese workers:
Shenzhen's overall high, median and low monthly wages are RMB25,830, RMB3,087 and RMB1,600, respectively, with an average of RMB3,892. According to the Salary Guide, the high and median wage figures have increased a respective 1.7 percent and 3.9 percent compared to last year, while the average and low wage figures increased by a respective 17 percent and 12.4 percent. The relatively large increase in the latter two can be attributed to the increase in minimum wages over the past few years.
For an example, 2011's wage average in the Shenzhen area, low wage earners across the board earned roughly the same amount a month as the workers in the factory in this Daily Mail article (EUR185), EUR200, middle wage earners EUR370, and high income earners around EUR3000. 
Lets go to Europe for a comparison.
The average monthly salary for Serbians in the processing industry for 2011 was EUR353, in Croatia EUR385. In Bulgaria, the average wage in 2011 was EUR354, which is basically the same average in Serbia and Croatia. The point here is, while differences do exist in wage scales around the globe, it's not "evil capitalism" taking advantage of the poor, on the contrary, the poorer of the world are gaining employment and opportunity, in spite of wage disparity, to build themselves a living and a future.
Back to China
What's also not discussed is the cost of living, which differs greatly with the developed world. Are we to moan and complain that food and clothing is less expensive to purchase elsewhere, and demand that they increase their pricing to make us feel more at ease, or is it better to realize that all nations go through similar phases on their way to a modern society, and that the free market and the individual knows better than the masterminds and geniuses who want to implement a cookie cutter one size fits all approach to the economy?
Watch Milton Friedman's "Free to Choose" series.
The REAL Toy Story: Chinese factory workers forced to sleep among piles of doll parts as they churn out Christmas presents
Human rights campaigners have raised concerns over the conditions of Chinese factory workers who make an estimated £150 a month

Chinese factories produce 75 per cent of the world's toys

In China there are an estimated 8,000 factories employing 3.5m people

By STEVE ROBSON and ALEX WARD
PUBLISHED: 16:56 GMT, 8 December 2012 | UPDATED: 07:56 GMT, 10 December 2012
With the demand to produce toys in time for Christmas, Chinese factory workers are being forced to work long hours and sleep on factory floors, among piles of doll parts.
In recent years, human rights campaigners have frequently raised concerns over the conditions of Chinese factory workers who make an estimated £150 a month.

These images give a stark insight into the monotonous life endured by thousands of Chinese factory workers in the country which makes 75 per cent of the world's toys, including well-known characters such as Mickey Mouse and SpongeBob SquarePants.
Abuses: With the pressure to produce toys in time for Christmas, factory workers in China are forced to work long hours and sleep in the factory
report in 2010 reported that the average monthly salary, including overtime, for a migrant worker was estimated to be just £150.
Across China there are an estimated 8,000 toy-making factories employing 3.5 million people.
According to New York-based China Labour Watch Chinese factory workers often work an extra 36.5 hours a week but are paid only 59 per cent of the minimum wage.
The non-profit organisation that assesses production factories say that while conditions have improved for workers after factories implemented a code of conduct, the abuses still continue.
A report in 2009 revealed that one million Chinese factory workers suffered industrial accidents in that year alone.