Yep, that's what he said.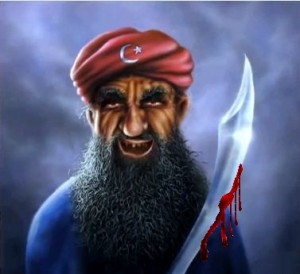 Here's the problem facing kumbayah Christians and Jews who believe that Islam is a religion of peace, because they know friendly Muslims who say warm and fuzzy things about co-existence with the people of other religions. While they may in fact know of such people (who even believe what they're saying) the fact remains that those who preach basic Islam 101, can thoroughly prove their intolerant positions, word for word, from their Islamic texts and win the day.
As I have said an umpteenth number of times, it's entirely immaterial whether you have mild Muslim friends or know of mild Muslims, the fact remains that the violent/intolerant/bigoted/antisemitic verses of the koran, hadiths and sunna of Mohamed, are as valid today as they were when they were first jotted down. These verses are immutable, meaning that they can't be watered down, ignored or completely done away with.
While some Muslim communities outside of the Islamic world, after having been influenced by their surroundings, chose to ignore these destructive verses, they are soon turned by  Muslims who think otherwise on the strength of their arguments. This is the naked truth, and while I applaud those Muslims who reject large portions of their own texts, I have nothing to offer them in the way of comfort however, when the Salafists and Wahhabists come to town.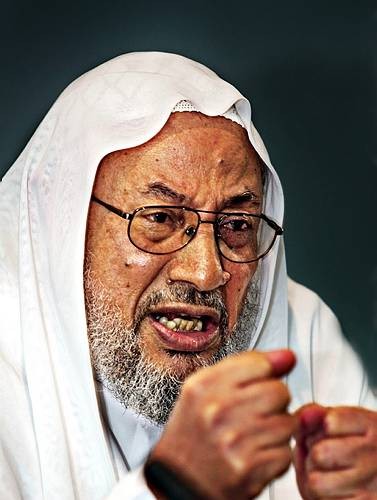 "Obey The Prophet, Even If He Tells You To Kill"
by Raymond Ibrahim
Gatestone Institute
November 26, 2012
Dr. Yusuf al-Qaradawi—one of the most influential Islamic clerics in the world, author of over 100 books on Muslim doctrine, head of the International Union of Muslim Scholars, and spiritual leader of the Muslim Brotherhood—maintains that Muslims must obey the commands of Islam's prophet Muhammad, even unto murder. This would be the same Dr. Qaradawi that American academics like Georgetown professor John Esposito praise for engaging in a "reformist interpretation of Islam and its relationship to democracy, pluralism, and human rights."
Missed in the West, Qaradawi made this declaration two years ago on his popular Arabic program, Al-Sharia wa Al-Haya ("Sharia and Life"), broadcast by al-Jazeera to an estimated audience of 60 million worldwide.
Towards the end of the show, the host asked Qaradawi what he thought about the fact that Sheikh Ahmad Hassoun, the grand mufti of Syria, had earlier said to an American delegation: "If [Muslim prophet] Muhammad asked me to reject Christianity or Judaism, I would have rejected him." Visibly agitated, Qaradawi erupted as follows:
No scholar of Islam or even average Muslim would ever say such words. If you believe that Muhammad is the messenger of Allah, then you must obey him—for he does not command except that which is good.

So, even if he tells you to kill, you must— … The story about our prophet Musa [Moses], when al-Khidr killed the boy and Musa said "you killed and you did!" But then he [Khidr] revealed why he killed the boy, and why he punctured the boat. So we cannot distort the facts in order to please the people. Let the people be satisfied with the Truth [Sharia teachings], not the false.
Syria's grand mufti said many other things concerning goodwill for Christians that roused Qaradawi's ire. For instance, before a large Christian gathering in Syria, where he was a guest speaker, he insisted that there were no differences between Christians and Muslims:
If Christianity is about believing in one God, so I believe in one God; if Christianity is about believing in Jesus, so I believe in Jesus; if Christianity is about believing in the New Testament, so I believe in the New Testament; if Christianity is about believing in the Old Testament, so I believe in the Old Testament; if Christianity is about believing that Mary was a pure virgin, so I believe she was a pure virgin, untouched by man; and if Christianity is about believing in the resurrection, so I believe in the resurrection—so what is the difference between me and Christians?
Qaradawi offered correct Muslim doctrine in response to this otherwise egalitarian talk, confirming that, yes, Islam believes all these things—but according to its own narratives, not the ones recorded in the Bible, which, as the Quran teaches, have been distorted. Hence, if Muslims believe all those things that the Syrian grand mufti mentioned, they do not believe in the fundamentals of Christianity—including the Trinity, Christ's divinity or resurrection, and atonement of sins—hence they reject Christianity, as understood and practiced by over a billion Christians.