Europe has long since opted to tread a path towards a multicultural society. It's a well worn path highlighted with policies promoting the generous open-door admission of non-Western immigrants – many of them hailing from monoculture societies steeped in ancient, die-hard anti-Semitism. As a result, Jews are among the first to feel the brunt of these experimental European policies.
Malmö in Sweden is the epicenter, the "ground zero" as it is sometimes called, of modern anti-Semitic outpouring in Sweden from the poster children of Sweden's multicultural experiment, the followers of monoculture Islam. It is in this environment that Jews, ironically some of whom believed that the multicultural society would eventually shield their communities from anti-Semitism, bear the brunt of these disastrous policies.
Not all cultures are equal, and Sweden's Jewish community is slowly finding that out – the hard way.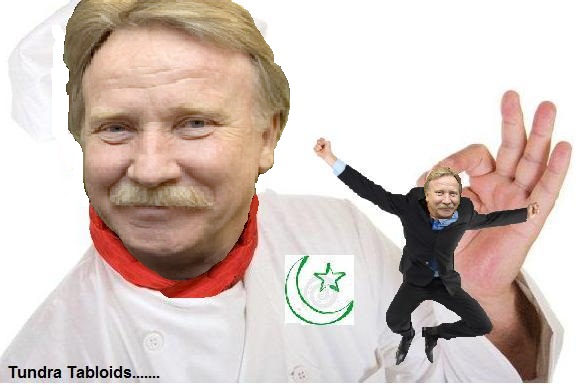 Mayor of Malmö Sweden, Ilmar Reepalu, the antisemitic chef: just a pinch of me is all it took.
Swedish Jewish Community Dying of a "Thousand Cuts", Says European Jewish Congress President after Series of Anti-Semitic Attacks
(European Jewish Congress BRUSSELS, December 5, 2012) – The President of the European Jewish Congress (EJC), Dr. Moshe Kantor, warned that the Swedish Jewish community is in grave danger after a series of anti-Semitic attacks, most notably an attack on two Jewish women in Malmo earlier in the week.
"The situation is intolerable for Jews in Malmo and every week we hear of another attack," Kantor said. "The community is slowly being pushed out; it is dying of a 'thousand cuts'. Each attack should be seen and dealt with as a part of a greater pattern to make Jewish life unsustainable in Sweden."
"The attacks against Jews should be seen in their entirety and there is a concerted attempt to rid certain areas on Sweden, if not the whole country, of Jews."
Earlier in the week, large swastikas were twice scrawled on several doors belonging to two separate Jewish homes in Malmo, according to a report in Sydsvenskan, a local daily. One of the homes was broken into, and a computer and Judaica were stolen. The homeowners reportedly called police four times during the weekend as the assailants continued to return. This follows an attack on a synagogue in Malmo, a rabbi viciously attacked in the street and several assaults carried out against the Jewish community in the last couple of months.
"The EJC will request a meeting with the Prime Minister of Sweden to discuss the issue and the need for greater policing, enforcement of anti-racism laws and a long-term strategy for dealing with the attacks on the Jewish community because we are reaching a tipping point for the Jews in Sweden," Kantor said.
Lena Posner-Korosi, President of the Swedish Council of Jewish Communities and EJC executive member said that "breaking into Jewish homes and deliberately stealing items of great personal and emotional value is outrageous."
"I urge the political leadership not only in Malmo but the Swedish government to take all measures to end the spiral of increased hatred and violence against Jews in the country."