Digging in the heels!
It's why I labeled him a "part time antisemite". I don't doubt he has Jewish friends, but they must be taken aback by his assertion that, spoken in clear terms:
The United States finds it difficult to take a more neutral stance on the Israel-Palestine issue, because they have such an influential Jewish population, which has both money and the media in its hands to a large extent. The U.S. Administration has not dared to venture, due to internal political reasons, enough with this issue. This is terrible truth about U.S. policy."
But he did in fact make an antisemitic statement, whether he owns up to it or not.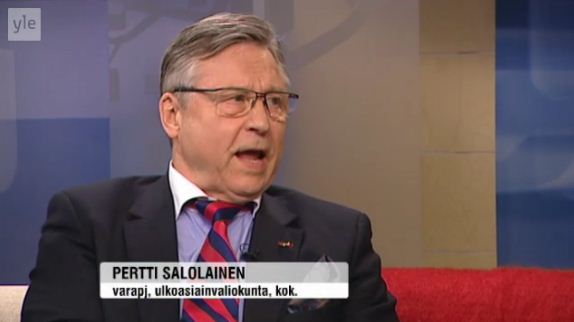 Salolainen: I do not have anything to do with anti-Semitism
YLE: MP Pertti Salolainen (cons) deems the Wiesenthal Center's  accusation of ant-Semitism incomprehensible. Salolainen analyzed the impact of the Jewish lobby on U.S. policy on Friday morning TV .
Salolainen in an email to Yle news  stresses  that he was making a pure foreign policy analysis.
– U.S. Middle East policy is heavily influenced by internal political religious reasons. The country has a strong religious lobby the movements that defend Israel. In this, the Jewish minority is of great importance, clarifies Salolainen.
– The religious significance of the movements are strong in the Senate and in Congress of the United States, as I have seen on a number of trips.
Accusation of anti-Semitism, Salolainen acknowledges, is incomprehensible.
– I do not have anything to do with anti-Semitism. As many of the my Jewish friends can attest.
Salolainen emphasize that the background to United States foreign politics is important to understand, as the country is the key to Middle East peace building.
– The EU has so far proven to be too inefficient to build the peace.