The very idea that the school succumbed to the demands of the mosque is outrageous. I can tell you one thing, when the planners of the mosque were getting their papers signed off on by the city council, this never once was broached, though they knew it would come up…some day.
NOTE: See how it works, Islamization in increments.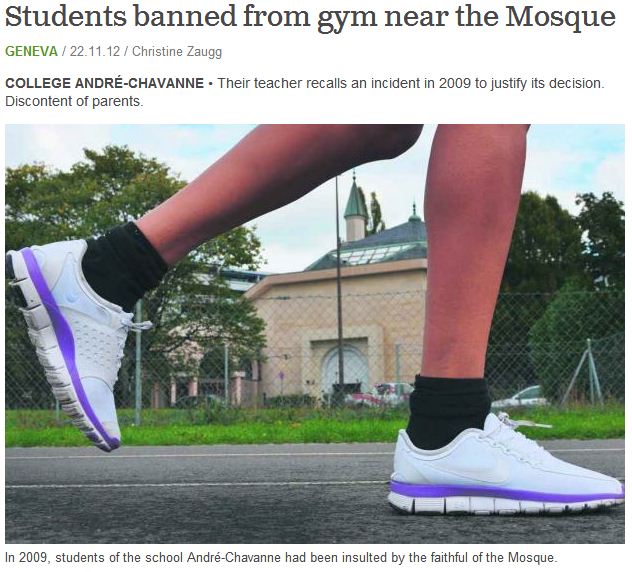 A teacher from the school gym André-Chavanne has prevented students last month to attend a gym on the athletic field. The reason? The stadium is near the Mosque and Breakfast Saconnex three years ago, students dressed in gym had been insulted by the faithful. Explanations that have shocked parents.
Shocked
"I find it unacceptable that my 16 year old daughter can not go dressed in gym running on the pretext that the mosque is close to the stage of the school!" Cookie is the father of a student 16 years. And a mother adds: "Why do you want to put oil on the fire? Our children did not understand the real motives of their teacher. The incident mentioned it is old and since then, there has never been a problem! "
Precautions
But back to the beginning of October this Friday, the day of prayer. The girls insisted on running outside, like the boys. To justify his refusal, the teacher recalls that in 2009, a class of girls, output also run on Friday, had been insulted … The faithful had even thrown their cans of soda. A story that had been boiling as the Department of Public Instruction (DPI) that the Mosque. Mosque officials had then apologized and promised to do everything possible to ensure that such incidents do not recur. For its part, the DIP had waived complaint.
Fear of teacher
That's three years later, the case resurfaced. "It is not a decision of the school but a teacher isolated," stresses Patrick Netuschill, dean of the school André-Chavanne. "The teacher had planned its course inside he explains. It is true that argued his refusal noting in particular that happened in 2009. She has the right to do so, especially if it believed that outdoor activities could put in danger its course. And that just as a refusal to make, for example, in a museum if students are rowdy. "
"We disapprove"
For its part, the leadership of the Islamic Cultural Foundation of Geneva emphasizes: "We are not aware that such events are again produced. However, if this were the case, the position of the Mosque and its management has not changed: we categorically disagree with the actions of the faithful, whose bad behavior and incivility are contrary to the teachings of Islam. "
Wise decision
Ch / Z • For Ouardiri, former spokesman of the Mosque, the reaction of the teacher is wise: "We live in a pluralistic society where it is important to follow what everyone wants to express.Renouncing run girls in shorts before the faithful of the mosque, I think the teacher has taken a conscious decision. "I feel better than we anticipate a potential problem that could be taken as a provocation." The mediator of peace, however, is to remind the faithful of the mosque they should not, in turn, dictate the way of life Westerners: "It is essential to respect the other frames. It is also important that believers know that there is a school and a stadium near the mosque, and they must respect the space of life of students, dressed in an outfit or not gymnastics. They should not be offended. "And Ouardiri concluded:" The best solution would it not planting trees or hedges provided very green and that would make the shadow between the Mosque and the stage? "
H/T: Vlad