This guy is making Mubarak look Jeffersonian.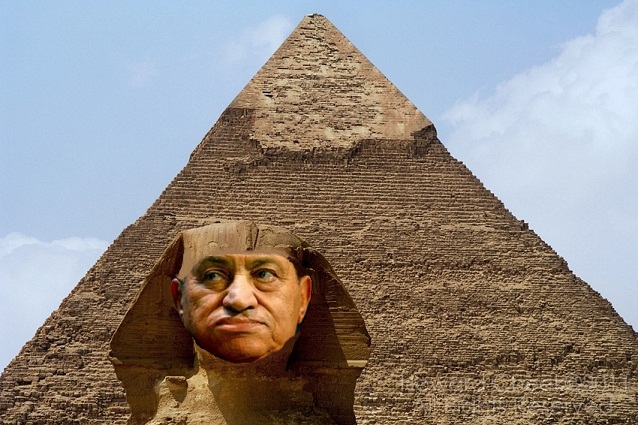 Mubarak: Miss me yet?
Eyes on the ball, folks.  In strategic terms, the most important thing that has happened in the last 10 days is that Mohammed Morsi has assumed dictatorial powers in Egypt.  Courageous Egyptians are protesting that move, but Morsi has less compunction than Mubarak did, and we can expect the protests to be dealt with effectively.

So, those of us who said Morsi was an Islamist extremist who would quickly reestablish authoritarianism in Egypt – with a sharia flavor – were right.  Those who said Morsi was a moderate were wrong.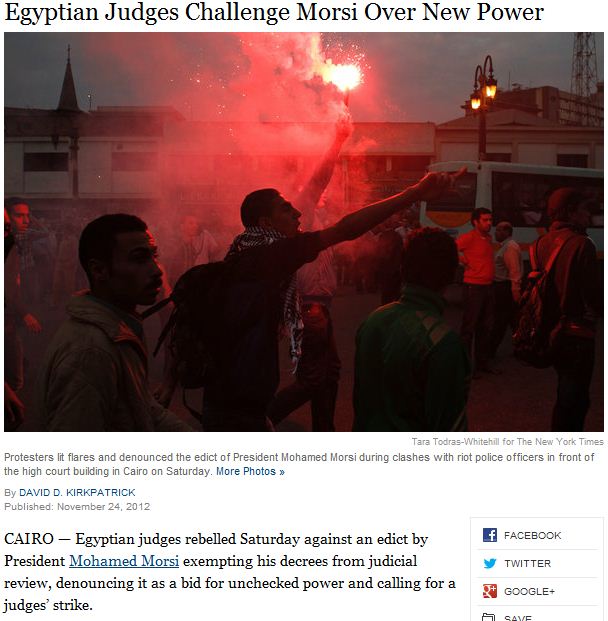 The condemnation came from an array of organizations. The Supreme Council of the Judiciary called the decree "an unprecedented attack on judicial independence" and urged the president to rescind it. A major association of judges, the Judges Club, called for a strike by courts acrossEgypt. The leader of the national lawyers' association endorsed the call.
A judicial strike would be the steepest escalation yet in a political struggle between the country's new Islamist leaders and the institutions of the old authoritarian government over the drafting of a new constitution. Those tensions have flared since Mr. Morsi announced his decree on Thursday, saying he acted to prevent the old-guard courts from dissolving the Constitutional Assembly, as they had dissolved an earlier assembly and the Parliament.
Mr. Morsi said his expanded powers, which he announced a day after he won international praise for helping broker a cease-fire in Gaza, would last only until the new constitution was ratified.
The judges, who were appointed by Egypt's ousted strongman, Hosni Mubarak, joined liberal and secular political leaders in opposing the decree. Because the court dissolved the Parliament, the judiciary was the last check on his power, and critics called the decree a step toward autocracy.
There were small street protests outside the court building where the judges met. And a coalition of disparate opposition leaders, including the former United Nations diplomat Mohamed ElBaradei and three other former Egyptian presidential candidates, demanded the cancellation of the decree.