The clue here is, that unlike the Norwegian political elite, the Heznazis didn't drape their antisemitism in the garb of anti-Zionist rhetoric, they came right out and admitted that they have a problem with "the Jews". The TT does in fact however, applaud the Norwegian foreign ministry for condemning the Heznazi statements, it's just too bad they don't react to their own government's adroitly veiled antisemitism that's dished out with frequent regularity.
NOTE: According to the OIC's Secretary General, Ekmeleddin Ihsanoglu, Hezbollah couldn't be antisemitic.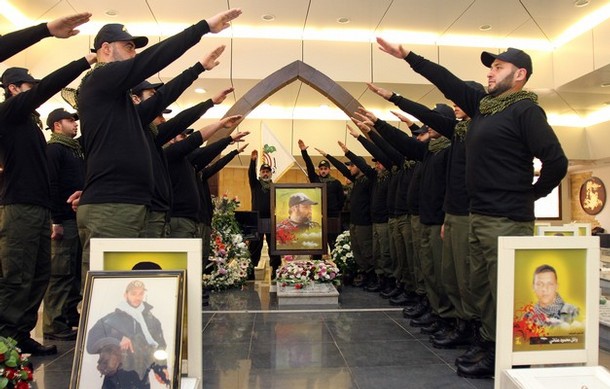 Analysis: Hezbollah's lethal anti-Semitism
By BENJAMIN WEINTHAL
11/12/2012 03:44
Norway, Austria slam Lebanon-based Shi'ite group's Jew-hatred; EU efforts to ban terrorist group focus on anti-Jewish rhetoric.
PHOTO: REUTERS/SHARIF KARIM
BERLIN – There are a great many reasons whirling around within European foreign ministries to list Hezbollah as aterrorist organization. Compelling arguments include the Lebanese Shi'ite group's role in supporting the Syrian regime's murder spree against its population to the October car bombing of the pro-Western intelligence director Maj.-Gen. Wissam al-Hassan in Beirut.
From the Israeli perspective, the deeply ingrained, lethal anti-Semitism of the Iranian-backed Hezbollah organization provide additional justifications.
"Hezbollah is an openly and proudly anti-Semitic movement. Indeed, the movement goes out of its way to stress that its animosity toward Jews does not derive from its opposition to Zionism," Dr. Jonathan Spyer told The Jerusalem Post on Sunday.
Spyer is a senior research fellow at the Global Research in International Affairs Center in Herzliya, and the author of the highly acclaimed book The Transforming Fire: The Rise of the Israel-Islamist Conflict.
Spyer added that the Hezbollah "movement deputy leader Naim Qassem said that 'the history of Jews has proven that, regardless of the Zionist proposal, they are a people who are evil in their ideas.' Nasrallah, meanwhile, has said that 'God imprinted blasphemy on the Jews' hearts.'"
The Jew-hatred of Hezbollah chief Hassan Nasrallah has drawn condemnations from European capitals over the past week. In a response to a Post query outlining anti-Jewish quotes from Nasrallah and Hezbollah, including "If we searched the entire world for a person more cowardly, despicable, weak and feeble in psyche, mind, ideology and religion, we would not find anyone like the Jew. Notice I do not say the Israeli," the Austrian and Norwegian foreign ministries rebuked Hezbollah.
"If this is what he [Nasrallah] said, it would fall into the category of anti-Semitic statements that we strongly reject," Kjetil Elsebutangen, a spokesman for the Norwegian Foreign Ministry, wrote to the Post by email on Saturday.
Alexander Schallenberg, a spokesman for the Austrian Foreign Ministry, told the Post, "From our perspective, anti-Semitic statements… are totally unacceptable, regardless from what corner or personality they come from."