He's exactly right!
And all three mentioned in this article, are in fact humanitarian racists as well.
"A part-time antisemite is someone who maliciously demonizes the state of Israel, yet claims to be a friend of Israel. However false that claim is, no full-time anti-Semite would take the trouble to say it."
Speaking at a packed seminar sponsored by the Finnish-Karmel Society, on the situation of antisemitism in the Nordic region (most notably in Norway and Sweden, and to a lesser extent in Finland), the Jerusalem Center for Public Affairs' (JCPA), Dr.Manfred Gerstenfeld, took note of a few incidents of antisemtism mentioned earlier here at the Tundra Tabloids.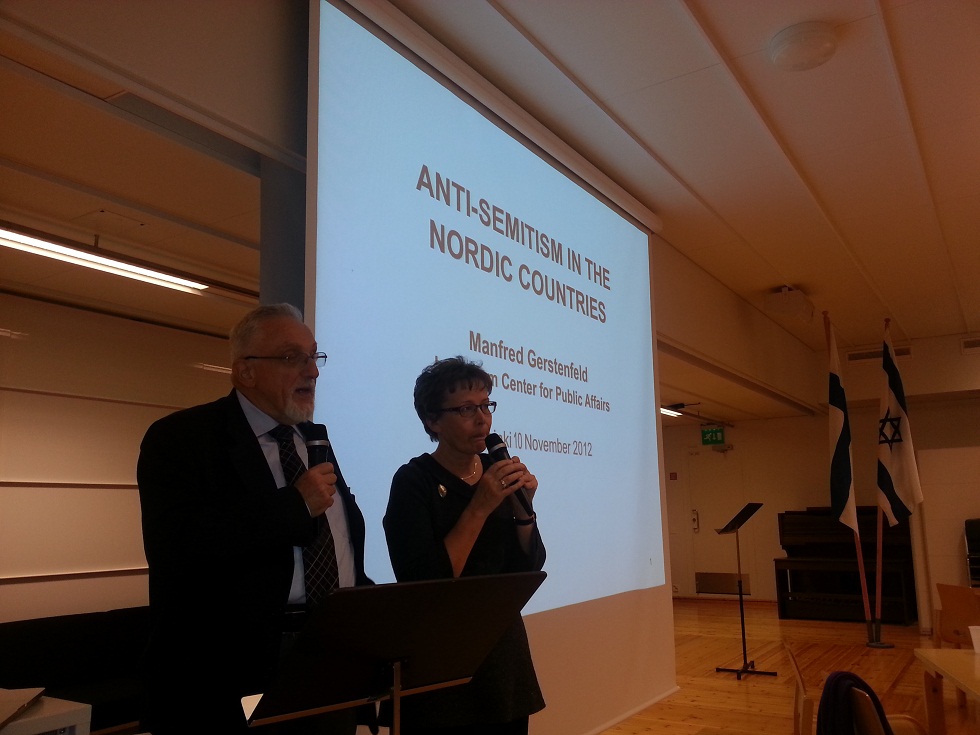 (Photograph taken by the TT)
A few of the incidents mentioned were Finnish FM (SDP), Erkki Tuomioja's statement that:
"No apartheid state is justified or sustainable," he told a panel discussion in Helsinki last week. "If you are occupying areas inhabited by… Palestinians who do not have the same rights as the Israelis in Israel, that is apartheid…. I think that the majority in Israel has also realized this, but they have been unable to provide a leadership that [can] move forward on the two-state solution, on the Palestinian problem."
Minister of Culture & Sports, Paavo Arhinmäki's (Vasemmisto) gross delegitimization of Israel on state funded television,  where he stated the following about Israel:
" Ruben is surely interested in why NATO has not addressed the genocide that Israel practiced in Gaza. The organisation selects the crises it wants to deal with."
…and Anna Kontula's statement (since then scrubbed from the government's website) in the Finnish parliament debate on arms trade between Finland and Israel:
Finland shouldn't have anything to do with such a 'child torturing state.' (Israel)
All of these incidents fulfill the EU's own working definition of what constitutes antisemitism. (In Finnish)