The question remains, why are they spending their money in the Islamic fundamentalist hell hole of Egypt?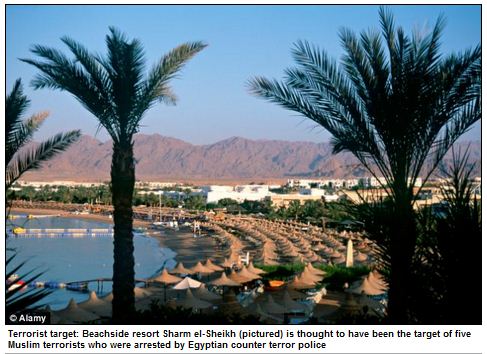 British tourists targeted in 'massacre plot' at Egypt beach resort – but police swoop on al-Qaeda terror suspects just in time
Five al-Qaeda terrorists were arrested by Egyptian counter terror police

Alleged plotters were caught 'while they collected weapons'

Gang thought to be targeting resort popular with British tourists
By ALEX WARD
PUBLISHED: 04:41 GMT, 2 November 2012 | UPDATED: 09:00 GMT, 2 November 12
Five terrorists have been caught apparently plotting an attack on British tourists in an Egyptian resort in the lead-up to Christmas.
The suspected jihadists were arrested by Egyptian counter terror police as they collected rocket-propelled grenades, rifles and pistols in an attempt believed to be similar to the Mumbai attacks in India which killed 166 people in November 2008.#
Authorities claimed that the gang planned to attack the 'softer target of British tourists' holidaying at the idyllic beachside resort of Sharm el-Sheikh on the Red Sea.