Good move, what took them so long?
No doubt Press TV pimp, George Galloway, and the OIC's Ihsanoglu (prounced He's-so-ugly) hardest hit over the news. I can just imagine their chair throwing tantrums.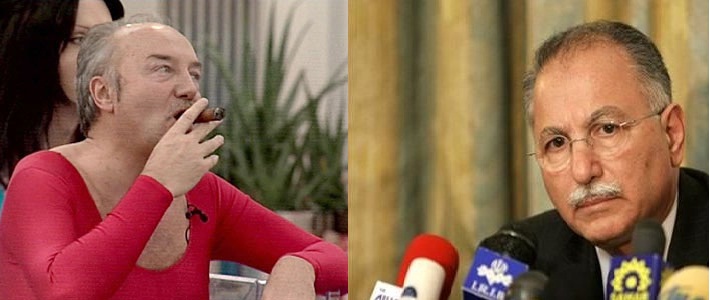 George & Ekmeleddin
NOTE: The former is upset that he can't watch his favorite antisemitic programming, and the latter upset over an Islamic channel being labeled as antisemitic.
European satellite axes Iran's anti-Semitic channels
By BENJAMIN WEINTHAL, JERUSALEM POST CORRESPONDENT
10/16/2012 01:43
Satellite service Eutelsat bars 19 Iranian channels from broadcast to reinforce EU Council sanctions.
PHOTO: HEMERA
Europe's top satellite service Eutelsat barred on Monday 19 Iranian state-controlled television and radio channels from broadcasting in Europe.
According to a spokeswoman from Eutelsat, the measures "reinforced EU Council sanctions."
Critics have long argued that Iran's state-run Press TV and the Islamic Republic of Iran Broadcasting (Irib) are plagued by hatred of the West and contain anti-Semitic broadcasts denigrating Israel, Jews and Zionism.
After the Eutelsat severs service with the Iranian media outlets, viewers can still see the English-language news service, Press TV, and Arabic-language Al-Alam on the Internet.
Press TV wrote on its website on Monday, that it "has launched a Facebook petition to save the news channel across Europe after European satellite provider Eutelsat SA stopped the broadcast of several Iranian satellite channels on the order of the European Commission."
Press TV termed Eutelsat's decision to be "illegal."
In July, Press TV published a report titled: "The Rape of Greece by Jewish Bankers."
Press TV later changed its headline to "The rape of Greece by Zionist bankers."
The story blamed Greece's economic woes on the "Jewish mafia."
The Coordination Forum for Countering Antisemitism wrote of an "Antisemitic Press TV headline."