Boom.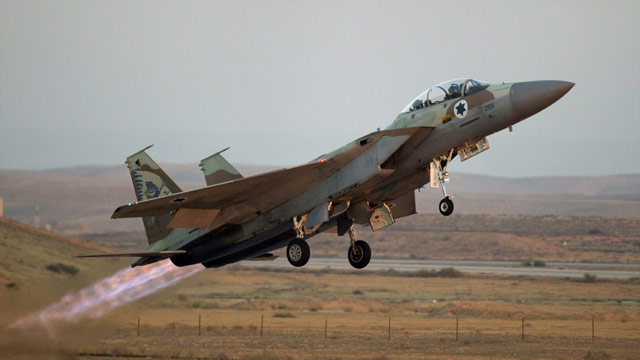 Golden quote:
IAF aircraft also attacked in Gaza overnight Saturday, hitting two men traveling on motorbikes in northern Gaza and killing the commander of a Jihadi-Salafi terror group. The commander has been named as Hisham Al-Saedni, also known as Abu Al-Waleed Al-Maqdissi, believed to head the Jihadist Salafi group Tawhid and Jihad (One God and Holy War).

Al-Saedni and his accomplice have been firing rockets into southern Israel, took part in past terror attacks on Israel from the Sinai Peninsula, and was in the final stages of plotting a new attack, an IDF source said.
IAF strikes Gaza for 3rd time in 24 hours; 1 killed
By YAAKOV LAPPIN
10/14/2012 17:11
IDF hits rocket-launching terror cell in central Gaza; 4 global jihadi members have been killed in Israeli strikes in past days.
The Air Force struck a rocket-launching terror cell in the central Gaza Strip on Sunday evening, shortly after the Palestinians had launched projectiles at a southern Israeli farming district.
Palestinian medical sources said one man was killed and three were injured in the air strike.
Quoting a Gaza Health Ministry official, the Palestinian media reported that the raid was conducted on multiple targets in central Gaza, east of Deir el-Balah.
A total of four global jihadi members have been killed in Israeli strikes over the past 24 hours.
"The terrorist cell which fired rockets into Israel a short while ago was targeted," the IDF Spokesman's Office said, confirming the strike. "An accurate strike was identified," the Office added.