These people are evil.
A collection of "former" Maoists, Communists and every other brand of statist imaginable, are now ready to further remove every last vestige of state sovereignty, all done through the cheap impersonation of a parliamentary system, where all the decisions are predestined for approval. This is the classic example of the "masterminds & geniuses" that author and radio host, Mark Levin refers to in his writings and live broadcasts.
Golden quote:
There were also many critics of the Nobel Committee's decision. Czech President Vaclav Klaus slammed the award as "a tragic mistake". "The Nobel Prize has always been given to individuals, to individual people who have been dedicated to some special case and have shown some specific unique effort in that case. To give it to a bureaucratic institution makes it a void award," Klaus said.
 NOTE: All three men mentioned at the bottom of the article, are exactly the kind of politicians the Framers of the U.S. Constitution had in mind, when they set out to construct the nascent U.S. political system. Seeking ways to limit government and disperse power among the states as much as possible, even to the local level, was the prime objective.
The three mentioned are the exact archetypical statist that the Founders of the U.S. Republic feared, and sole reason why they worked vigorously to craft their version of self government, in order to counter any of their future political machinations.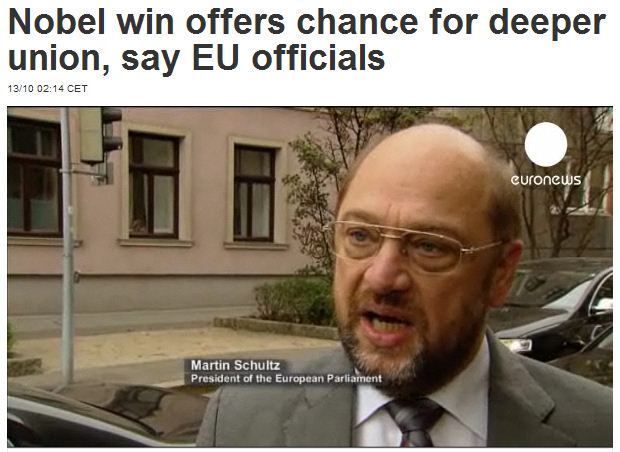 The European Union's Nobel Peace Prize win is an opportunity for further integration, EU figures said on Friday.
Martin Schulz, the president of the European Parliament, said the 27-member bloc should move towards closer political union.
"I see it as an invitation to bring European integration forward. It is a call to us to build Europe further, and not neglect Europe," he said.
Romano Prodi, a former European Commission president and a two-time Italian prime minister, stressed that the EU had been important in keeping the peace.
"Europe is full of monuments for those who died in battle. And we must be grateful to them, for their sacrifice. Now, for three generations, we are in pace. We are happy," he said.
"You saw what happened in Yugoslavia and you see what's happening in North Africa now. So long live a peaceful Europe."
Media reports on Friday said there was already some confusion over who would represent the EU to pick up the award.
The bloc is led by EP president Martin Schulz, European Commission chief Jose Manuel Barroso and EU Council president Herman van Rompuy.