This is what passes for normal here.
Radical leftist chairman of The Left party (currently in government) and acting minister of sports and culture, Paavo Arhinmäki, is an abject disgrace. Last night on Finnish television (h/t: Kumitonttu) he wore a T-shirt that sported a logo used by a Finnish artist in a high profile publicity stunt in February of last year (2011).
 UPDATE: Veli-Pekka Kortelainen upgrades my original photo: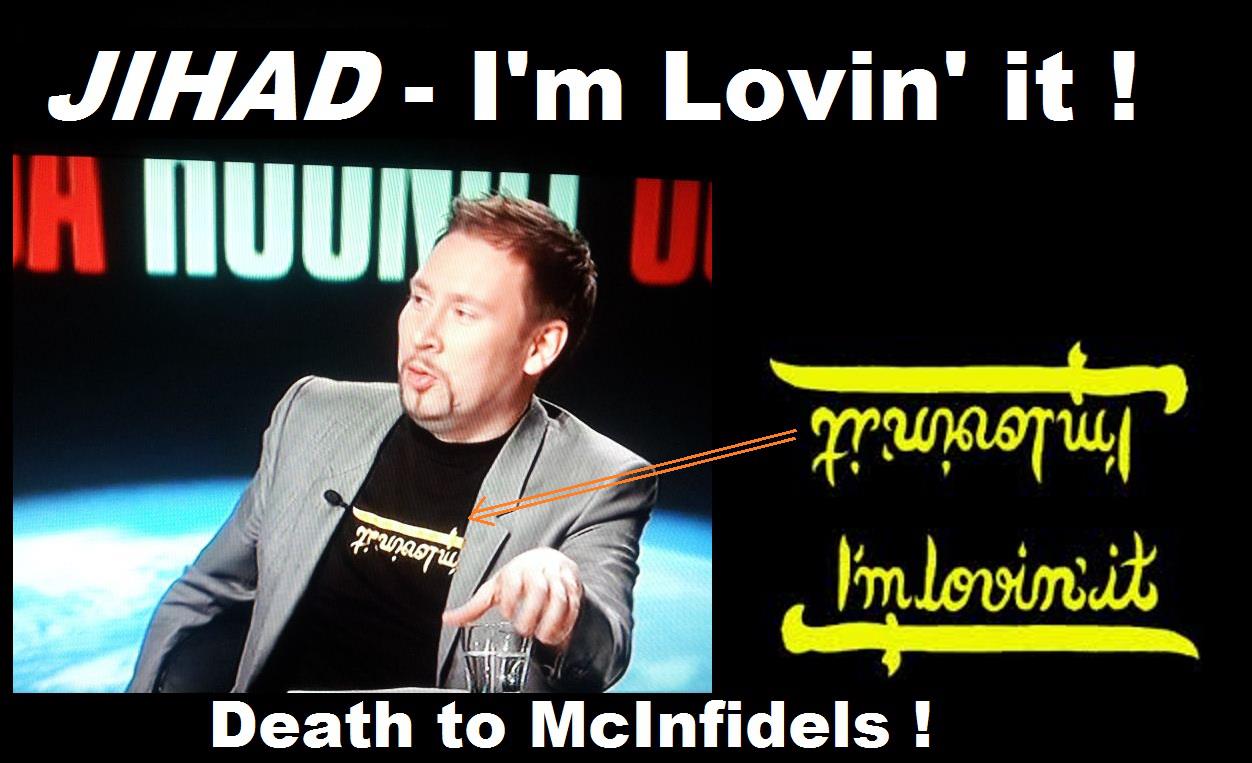 The stunt involved the stealing of a statue of Ronald McDonald from a local franchise, then uploading a jihadi-like styled video to Youtube of themselves in baklavas announcing that it was being held for ransom and issuing a list of their demands. It concluded with the threat of the statue being "executed" by beheading it if their demands were not met.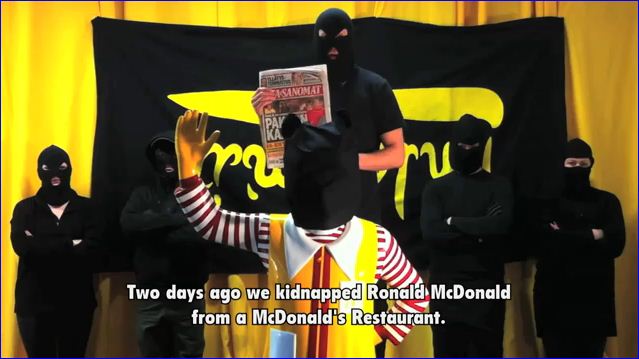 Fast forward to 2012, the artist, Jani Leinonen, responsible for the stunt, was once again in the TT headlines, for posting a comment a few weeks in the Helsingin Sanomat, that blamed the Jews for the attack on the U.S. consulate in Libya. (It was al-Qaida)
"The Libyan embassy attack and Ambassador Stevens' murder was the result of the United States, the dominating neoconservatives and the Israeli intelligence service Mossad,  in co-operation with Saudi Arabian officials with the aim to foment chaos in the Middle east and ignite the flames of a third world war. "
This is the type of stunt, and person, that Arhinmäki (pictured above in the black T-shirt with the sword above the upside downscript of "Im Lovin it") chooses to identify himself with, as a sitting minister in the Finnish government. He's a hard leftist who's prone to entertain and promote antisemitic ideas, as well as to make light of the brutal way people have been butchered.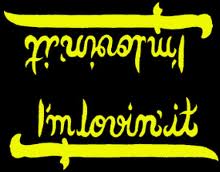 This acting minister of sports and culture is also someone who a few years ago at a football match, chanted the names of dead police officers at the opposing team (who had been friends with the deceased) with the hopes of causing a row in the stands. Arhinmäki , earlier this year as a member of the Finnish government, on taxpayer funded state TV accused Israel of genocide policies against the Palestinians, which drew heavy criticism from the Jewish community in Helsinki.
What kind of message he is sending to his supporters is for speculation, but anyone with head-sense can tell you that the message, whatever it may be, is not fitting for a sitting member of government, let alone the position of an acting minister of sport and culture to deliver.