Yeah, I can see this "spring" spreading to Lebanon.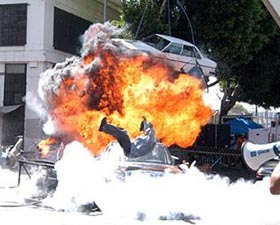 The power play is on, if the Heznazis aim to do the bidding of the Iranian regime inside Syria, then the Syrian rebel cabal of terrorists (and other assorted groups mixed in with those aspiring for some form of normalcy) will respond in kind. Actaully this shows the long arm of support the Syrian rebels have inside Lebanon, this wasn't an easy attack to pulll off.
Hezbollah men killed in Lebanon blasts
Armed group announces "martyrdom of three fighters" in explosions in weapons depot in country's eastern Bekaa Valley.
Lebanon's Hezbollah has announced the deaths of three of its fighters in a series of blasts at a weapons-storage depot in the country's eastern Bekaa Valley.
A Lebanese security official had previously said that at least nine people were killed in Wednesday's explosions, including four Syrian workers.
"Sources from the resistance [Hezbollah] reported that a blast took place in an arms depot of shells, ammunition and remnants of Israel's shelling in the area," Hezbollah, the powerful Shia Muslim group, said in a statement carried by its television channel, Al-Manar.
"This unfortunate blast led to the martyrdom of three fighters.