Actually, I have to agree with him.
Here's a pic of Syrian rebel terrorists about to execute a man accused of being a government stooge, and then pushed into a hillside sewer. Video of it here.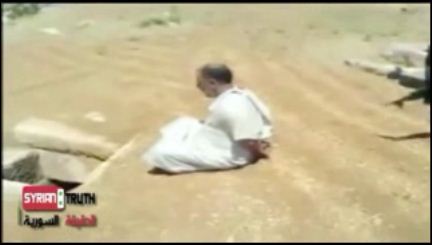 SYRIA: UN COUNCIL MEMBERS SUPPORT 'TERRORISM'
BY EDITH M. LEDERER AND DIAA HADID
ASSOCIATED PRESS
UNITED NATIONS (AP) — Syrian Foreign Minister Walid al-Moallem accused some U.N. Security Council members Monday of supporting "terrorism" in a speech colored by conspiratorial undertones that clearly aimed at the United States and its allies that support the Syrian opposition.
Addressing the U.N. General Assembly's annual gathering of world leaders, al-Moallem said that efforts by Syria and the world to end the 18-month war will fail unless Turkey, Saudi Arabia, Qatar, Libya and others stop arming and financing the opposition and instead "encourage dialogue and renounce violence."