Suck it up and enter the 21 century.
We are actually treating those Muslims as equals, not like squalling babies that need to be placated with a waiting nipple.
The Arab League:
The Organization of the Islamic Cooperation: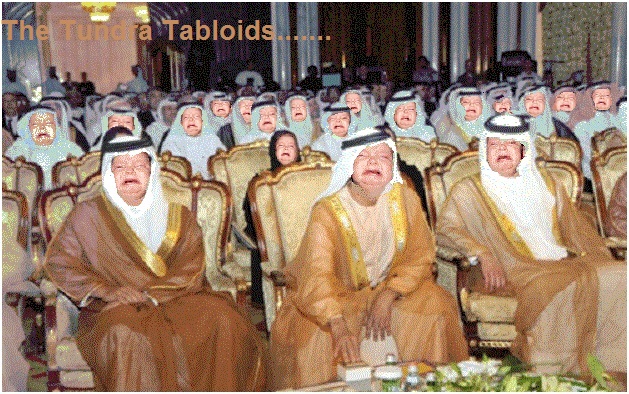 Algeria joins Muslim leaders in demanding new efforts to stem attacks on Islam
Algeria demanded new efforts Saturday to limit freedom of expression to prevent denigrating attacks on Islam, appealing to the United Nations to take a lead as nations engaged in new debate on the tensions between free speech and religious tolerance.
In an address to the General Assembly, Algeria's foreign minister Mourad Medelci called for global action under the auspices of the United Nations to respond to violent demonstrations provoked by a U.S.-produced video that mocks Muslims and the Prophet Mohammed.
While Mr. Medelci didn't offer precise details of how he believed the UN could intervene, his call follows similar demands at the General Assembly from scores of leaders in the Muslim world who want new laws to ban insults against Islam.
On the sidelines of the annual forum, Ekmeleddin Ihsanoglu, secretary general of the Organization of Islamic Cooperation, told The Associated Press Saturday in an interview that the deaths of two dozen people in violent protests against the anti-Islam film underscored the need for new legislation.
Malaysia's foreign minister Anifah Aman told the General Assembly that the creators of the anti-Islam film — an amateurish, privately produced U.S. video that mocked Muhammad's image — and those behind the publication of lewd caricatures of the prophet by French satirical weekly Charlie Hebdo had shown "blatant malicious intent" toward Muslims.
[…]
On the sidelines of the annual forum, Ekmeleddin Ihsanoglu, secretary general of the Organization of Islamic Cooperation, in an interview with The Associated Press Saturday, called for a global ban on offending the character of the Prophet Muhammad, saying that it should be equated with hate speech.
Such a ban would demonstrate how an interconnected world respected different cultural sensitivities, Ekmeleddin Ihsanoglu said.
"If the Western world fails to understand the sensitivity of the Muslim world, then we are in trouble," Ihsanoglu said. Such provocations pose "a threat to international peace and security and the sanctity of life."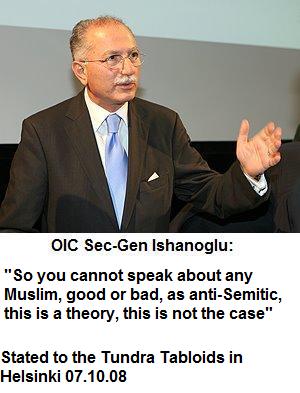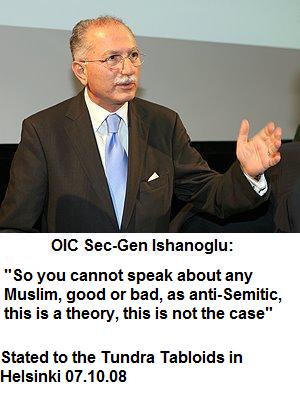 NOTE: It's a fact that anywhere sharia inspired blasphemy laws are in place, the percentage of discrimination against religious minorities in those countries are higher than in other countries that do not have these laws on the books.
Also, Vlad notes that Setphen Coughlin was way ahead of the bell curve predicting the wave of Muslim leaders calling for international legislation for the banning of "blasphemy".