No names yet being mentioned, especially from where they originally hail, ethnic Swedes or from elsewhere.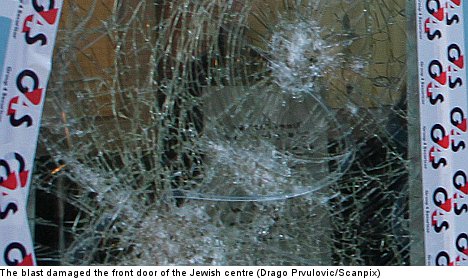 Explosion at Jewish centre in Malmö
Published: 28 Sep 12 07:18 CET | Double click on a word to get a translation
Police were called out early on Friday morning after loud bangs were heard near the Jewish community centre in Malmö, southern Sweden.
"There as been an explosion. Something has detonated – we are certain of that," said police officer Erik Liljenström to local paper Sydsvenskan early on Friday morning.
The police received a call shortly after 1am. Witnesses said they had heard loud bangs near the centre some 15 minutes earlier.
When police arrived at the scene they soon established that there had been some sort of explosion and that someone had tried to smash in the door.
There were loose paving stones lying among shards of shattered glass in front of the entrance, according to the paper.
While damage had been done to the front door, the building had not been damaged in any other way as far as the police could see, but according to witness statements the blasts were heard a few blocks away.
Police spoke to many of the witnesses and cordoned off the area pending the forensic investigation, carried out overnight.
Several independent witnesses said that they had seen two cars leave the area at high speed just after the bangs.