How's that sharia working for you?
All covered up with no children to show.
The sad thing is, the Canadian government acknowledged the sharia derived divorce, in spite of living in Canada and her not having signed a damn thing. In the West's eventual separation from Islam, the acknowledging of Islamic law, even in marriage contracts, will end. A complete break is in the making.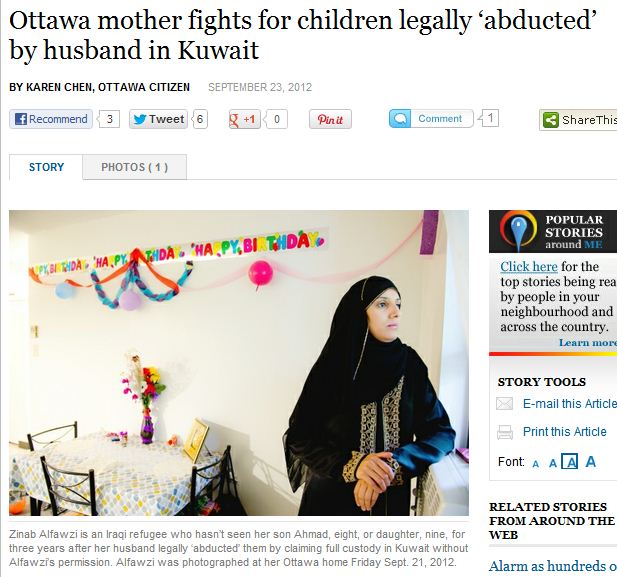 OTTAWA — Zinab Alfawzi had prepared the perfect party for her son's eighth birthday on Aug. 16. She specially ordered a cake featuring her son's favourite superhero, Spiderman. She strung up streamers and balloons, lit all the candles and gathered friends to sing Happy Birthday.
The only thing missing was her son, Ahmad, who was nearly 10,000 kilometres away in Kuwait with his father. He wasn't answering the phone.
"Happy Birthday son. I wish next year we could be together. I love you," she says in Arabic in a cellphone recording of the celebration, the phone in Kuwait ringing and ringing as the candles grow shorter and shorter. A few months ago, the same thing happened except with a Dora the Explorer themed cake for her nine-year-old daughter, Rawan.
Alfawzi hasn't seen her children for three years. They live in Kuwait with her husband, Salem Khalef Rashid and his new wife. Kuwaiti courts granted him a divorce and awarded him full custody of the children without ever giving Alfawzi a say in the matter.
The divorce is recognized by Canada, even though she never signed her name agreeing to it.