And the rest is history……
From Breitbart News: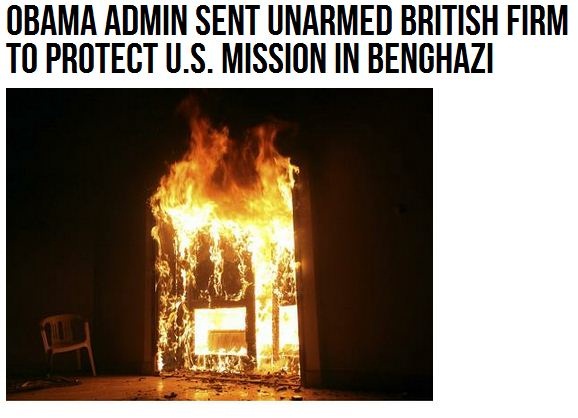 EDITORS' NOTE: According to a source close to Breitbart News and high up in the intelligence community, the Obama administration's policy following Muammar Gaddafi's death has been to keep a "low profile" during a chaotic time.  
For this reason, according to the source, American Marines were not stationed at the U.S. embassy in Tripoli or the American mission in Benghazi, as would typically have been the case. In the spirit of a "low profile," the administration didn't even want an American company in charge of private security. Blue Mountain, the British firm the State Department hired, was willing to abide by the "no bullets" Rules of Engagement (ROE), so were a logical fit for the contract. These sub-standard protections for American diplomats were signed by Secretary of State Hillary Clinton in the ROE.
In essence, the Obama Administration tasked an unarmed British firm with security responsibilities that should have been handled by armed American servicemen, and it was all approved by the Secretary of State. Needless to say, the plan failed and an Ambassador was murdered, along with several others. As of now, the State Department has not disclosed the full State Department Rules of Engagement for Libya.
Here is the full story here.