You know, all these attempts do in fact add up.
Kudos to the FBI in securing public safety once again, the need to stay vigilant couldn't be any more relevant today. Just think of the damage this jackass could have inflicted if he went undetected. Remember, it only takes one to slip through and cause incredible damage, that's why it's necessary to take a no nonsense attitude to protecting our citizens, the jihadis are always busy planning the next outrage.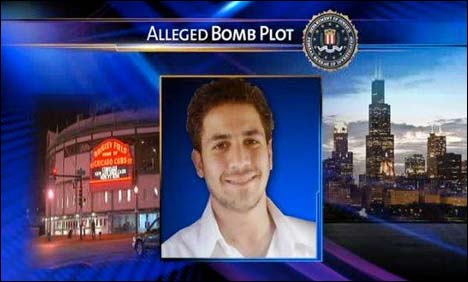 MUSLIM TEEN CHARGED FOR ATTEMPTED CHICAGO BOMBING
15 Sep 2012 130 POST A COMMENT
By JASON KEYSER
Associated Press
CHICAGO
Undercover FBI agents arrested an 18-year-old American man who tried to detonate what he believed was a car bomb outside a downtown Chicago bar, federal prosecutors said Saturday.
Adel Daoud, a U.S. citizen from the Chicago suburb of Hillside, was arrested Friday night in an undercover operation in which agents pretending to be extremists provided him with a phony car bomb.
The U.S. Attorney's Office in Chicago announced the arrest Saturday and said the device was inert and that the public was never at risk.
Daoud is charged with attempting to use a weapon of mass destruction and attempting to damage and destroy a building with an explosive.
The FBI began monitoring him after he allegedly posted material online about violent jihad and the killing of Americans, federal prosecutors said.