Or in other words, they ignored the Muslims embracing of Islam 101
Probably felt that they could handle them.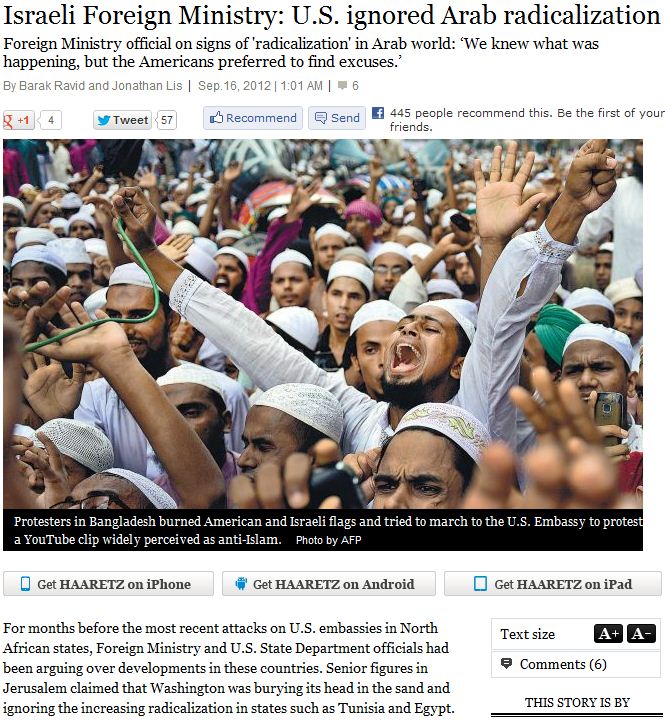 The Obama administration, which since the beginning of the Arab Spring has aided, directly or indirectly, the forces that brought down the dictatorial regimes in Egypt, Tunisia, Yemen and Lybia, now finds itself in a position of helplessness. The attack on the consulate in Benghazi, in which the U.S. ambassador to Libya, Christopher Stevens, was killed, and the storming of the U.S. embassies in Tunis, Sanaa and Cairo, proved the great hostility to the United States and the unwillingness of these country's new leaders to challenge domestic public opinion.
Senior Foreign Ministry officials say their conversations with their Washington counterparts have focused on what Jerusalem terms "radicalizing trends" against not only Israel but also against the United States and the West in general.
One of the most recent such meetings took place a week ago, during a visit to Jerusalem by the acting Assistant Secretary of State for Near East Affairs, A. Elizabeth Jones.
"The Americans were constantly trying to supply explanations and excuses for events in the post-revolution Arab states, and simply ignored the problems," one senior Israeli official said, adding, "In practice the administration's ability to affect events in the Arab world has decreased immensely."
The Foreign Ministry official presented the example of Tunisia, which was expected to be moderate despite the rise to power of the Muslim Brotherhood. Several weeks ago Israel's ambassador to Poland, Zvi Rav-Ner, reported that the Tunisian ambassador to Poland had been called back to Tunisia unexpectedly, ending her posting there. Rav-Ner added that all five women serving as ambassadors of Tunisia in various countries had been recalled at around the same time.