Dennis Mitzner: Free Libya kills its liberator

Also, Pastor Jones film being nominated as catalyst for up-rise, I however believe it was a coordinated day-of-outrage to coincide with 9/11 anniversary.
UPDATE: US Ambassador confirmed dead and three others in Libyan attack on US consulate! The number could rise.
The U.S. ambassador to Libya and three other embassy staff were killed in a rocket attack on Tuesday in the Libyan city of Benghazi, a Libyan official said.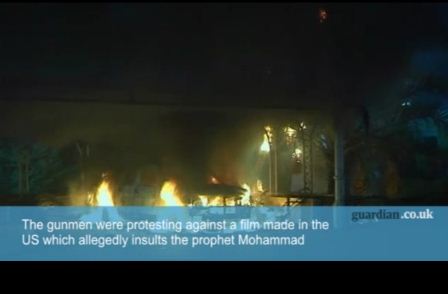 2 American State Department Employees Killed in Libyan Consulate Attack; Cairo Embassy Stormed in Protest Over US Film
By DEAN SCHABNER, ENJOLI FRANCIS and ANTHONY CASTELLANO
Sept. 12, 2012
Two American State Department employees were killed in Benghazi, Libya after militants stormed the U.S. consulate, angry about an American made film that depicts Prophet Mohammad as a fraud and womanizer.
Anger over the film that some believe insults the Prophet Muhammad also provoked protests in Cairo Tuesday, where demonstrators climbed the walls of the U.S. embassy, took down the American flag and replaced it with a black flag.
A senior U.S. senior official told ABC News they are on alert throughout the region and fear there could be more attacks to come. One of the American State Department employees likely died of smoke inhalation Tuesday from the fire at the consulate, according to the U.S official.
The death of the second employee was confirmed Wednesday, according to the U.S. official. There is no word yet on how that employee died.