Pure evil.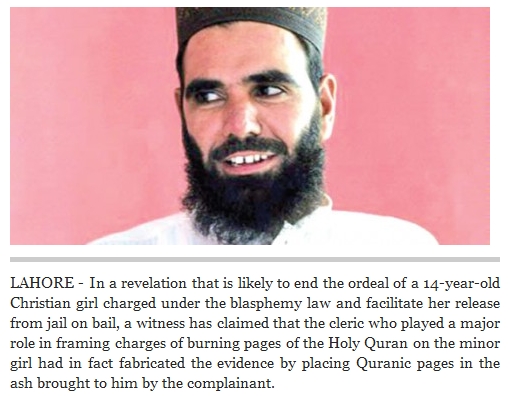 Recording his statement before a magistrate in Islamabad on Saturday, Hafiz Zubair said he and two other people were present in the mosque for Aitekaf when Malik Ammad, the complainant in the case, came to the mosque's imam Khalid Jadoon with a plastic bag that he claimed contained the ashes of a Noorani Qaida allegedly burnt by Rimsha.
Zubair said Jadoon brought some pages of the Holy Quran from inside the mosque and mixed them with the ash. "I asked Jadoon why he was fabricating the evidence. He said that this would ensure a strong case against the girl and would ultimately help them in evicting the Christians from the locality," said Azhar, adding that the other two people present in the mosque at that time had also asked the imam not to place false evidence against the girl.
Commenting on the development, Rimsha's lawyer Tahir Naveed Chaudhry told Pakistan Today that Azhar's statement proved that the case against the minor girl was fabricated. "Jadoon and Ammad concocted the evidence and they should be booked on the same charge that they had leveled against the girl," he said.
Pakistan Ulema Council Chairman Hafiz Tahir Ashrafi also condemned the imam for implicating a minor girl in a fake case. "The revelation proves our stance that the case against the girl was fabricated. The government should take immediate notice of this revelation and should give exemplary punishment to the perpetrators of the crime to ensure that the law is not misused against any person," he said.