Vlad reminds me this morning about the Daniel Pearl beheading, how it caused such an outrage around the world that views such horror with actual justified outrage, and how Muslim beheadings are becoming so common that they no longer outrage people as they once did in times past. Which leads me to ask, what's the next outrage they that they'll need to come up with since the 'outrage factor' is no longer there? Crucifixitions?
H/T: Zip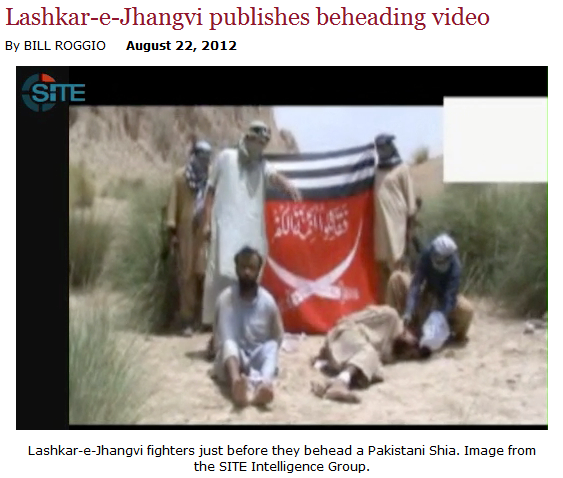 The al Qaeda-linked Lashkar-e-Jhangvi (LeJ) published a gruesome video on jihadist internet forums that shows the beheading of two Shiites. In a statement that accompanied the video on one of the forums, a jihadist said the Pakistani terror group is part of al Qaeda and the Taliban.
The video, titled "Revenge," was released today, first on the Jamia Hafsa Urdu forum and then distributed on other jihadist forums, according to the SITE Intelligence Group, which obtained the video.
In the video, two Shia men are filmed for nearly half an hour before they are brought outside and seated on the ground with their hands tied behind their backs. Standing behind them are four masked Lashkar-e-Jhangvi fighters; two are holding a red banner with crossed swords.
Two of the Lashkar-e-Jhangvi fighters then pull out knives, and proceed to behead the two Shia men. The victims' heads are then placed on their laps. The jihadists then wipe their knives on the clothes of the slain men.
A jihadist on the Hanein forum, who posted in Arabic, said the Lashkar-e-Jhangvi "is allied to Taliban-Pakistan and has a close relationship with it," according to SITE, which translated the message.
"Most of the operations against the Shi'ites [in Pakistan], if not all of them, are carried out by this group," the jihadist continued.