To be expected.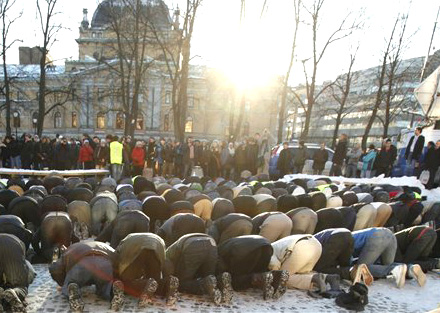 Calling for a Sharia State in Grønland — And a 9-11 for Norway
The following article concerns Islamic radicals in the Grønland district of Oslo. To refresh your memory, here's what Fjordman had to say about Grønland:
Grønland is only two subway stops from the Parliament, and one from the Central Station, fairly close to the government offices that were bombed by Breivik.

It looks like Karachi, Basra, and Mogadishu all rolled into one. People sell drugs openly just next to the Grønland subway station.

It's not Norway or Europe anymore, except when there is welfare money to be collected. The police have largely given up. Early in 2010 Aftenposten stated that there are sharia patrols in this area, and gay couples are assaulted and chased away. "Immigrant Fatima Tetouani says that 'Grønland is more Muslim than Morocco.'"
A radical group has now demanded a separate Islamic state in Grønland, threatened specific political leaders, and promised "a new July 22 or September 11 on Norwegian soil".
Vlad had a post on this story earlier today. The article below is a more detailed follow-up on the same topic. Many thanks to our Norwegian correspondent The Observer for translating this article from VG.no:
PST investigating threatening letters sent to politicians
This is Norway's new radical extremist group
(VG Nett) The new extremist group Ansar al-Sunna appeared on the radar earlier this year.

The Police Security Service (PST) has started an investigation of a letter sent from the radical extremist group Ansar al-Sunna.

In the letter addressed to Norwegian politicians and the media the group threatens with a new July 22 or September 11 on Norwegian soil.

"We have begun investigating the letter," says Siv Alsen, a spokesperson for the PST, to VG Nett.

In the letter Prime Minister Jens Stoltenberg, Foreign Minister Jonas Gahr Støre and Defence Minister Espen Barth Eide are threatened.