Talking with Vlad I got an idea to help with his new tard game. Here's the gif I made, hopefully some computer programming techies who are disgusted with jihad, blowing up animals, human beings and Islam in general, can come up with a new version of Donkey Kong, Taliban style.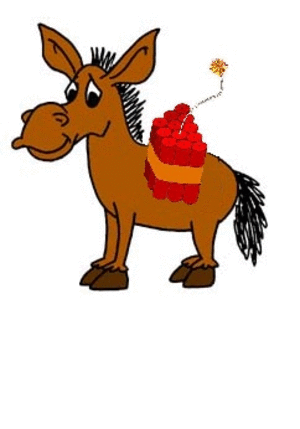 Vlad: Donkey Bomb! The new game the whole family can play! Only available in Afghanistan and select other Muslim countries.
Donkey bomb kills district police chief, wounds 3 in Afghanistan
CHEGHCHERAN, Afghanistan, Aug. 6 (Xinhua) — The anti-government militants planted mine on the back of a donkey and targeted a district police chief killing him on the spot and injuring three others in Ghor province 360 km west of Afghan capital Kabul on Monday, provincial police chief said.
"The rebels planted mine on a donkey and stopped it near the gate of the district headquarters of Charsada district and when the district police chief arrived at the gate at around 09:00 a.m. local time to go to his office, the rebels exploded it by remote control killing the police chief on the spot," Dilawar Shah Dilawar told Xinhua.
Condemning the incident, Dilawar said that the donkey was also killed in blast, adding the trick exposes Taliban cruelty against both human being and animals.