The most recent incident of terror was the bombing of a school bus carrying Israelis in Bulgaria.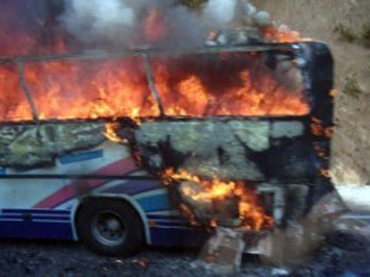 NOTE: This was published a few days ago at Israel National News, and republished here with the author's consent.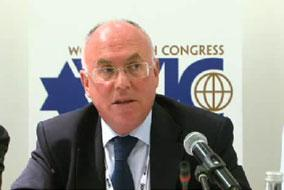 Terrorism Targeting Jewish Communities and Israelis Abroad
Manfred Gerstenfeld interviews Michael Whine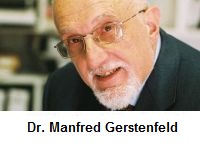 "In March, Mohammed Merah murdered a Jewish teacher and three children in front of a Jewish school in Toulouse, France. In July 2012, five Israeli tourists and a Bulgarian were killed by a suicide bomber at Burgas airport, Bulgaria. These attacks, and others planned but intercepted, have once again focused attention on terrorism against Diaspora Jewish communities and Israeli targets abroad.
"This terrorism is the most violent manifestation of contemporary anti-Semitism. It is proof that the lives of any Jew or Israeli abroad are threatened. The damaging impact that a successful mass-casualty terrorist attack would have on Jewish communal life is huge. That is why Jewish communities in Europe invest far more effort and money on security at their communal buildings than similar organizations."
Michael Whine is Director of Government and International Affairs at the Community Security Trust, the defense organization of British Jewry. He has published extensively on terrorism and other subjects.
"Many terrorist groups are profoundly anti-Semitic. It is a common conviction across different extremist ideologies that Jews, Zionism, or Israel are preventing the creation of a new, better world. Yet Jews are currently not the prime target for many terrorists. The United States and other countries with military forces in Afghanistan are. The extent to which terrorists consider Jews a primary target may depend in part on what role traditional anti-Semitic stereotypes play in their worldview.
"Among the sources of terrorism against Jews and Israelis outside Israel, the Salafi jihadist variety is the most dangerous. There are many indications that it is on the rise. Before that, the main perpetrators of anti-Jewish terrorism had been Palestinian secular terrorists. Others were violent extremists from diverse backgrounds, e.g., neo-Nazis, Marxist-Leninists, anarchists, Arab nationalists, Khomeinite revolutionaries, and radical Sunni Islamists. Of the fifty-one recorded attacks and intercepted plots from 2002 to 2010, thirty-nine were carried out by Al-Qaeda, its affiliates, Lashkar-e-Toiba, and others motivated by the global jihad movement. Historically, links between different terrorist movements have existed, though it is more accurate to view each as independent.
"The most lethal terrorist act was the truck bomb attack on the Buenos Aires Asociación Mutual Israelita Argentina (AMIA) headquarters in July 1994. Eighty-five people were killed. We know since then that it was ordered by Iranian government leaders. During the 1980's and 1990's, Iran and Hizbollah repeatedly carried out terrorist attacks on Jewish or Israeli targets outside Israel. They included: the bombings of Jewish communal institutions in Paris in September 1986 by Lebanese Shiites under Hizbollah control; a failed car bombing against a Jewish community building in Bucharest in 1992, later discovered to have been carried out by Hizbollah, and the failed ambush of Turkish Jewish leader Jacques Kimche in 1993 by an Iran-linked group.
"Ayman al-Zawahiri, now the leader of Al-Qaeda, issued several calls to attack Jews in addition to Israelis. In his 2001 book Knights under the Prophet's Banner he wrote: 'Tracking down the Americans and the Jews is not impossible. Killing them with a single bullet, a stab, or a device made up of a popular mix of explosives or hitting them with an iron rod is not impossible. Burning down their property with Molotov cocktails is not difficult. With the available means, small groups could prove to be a frightening horror for the Americans and the Jews.'
"In 2008, al-Zawahiri endorsed 'every operation against Jewish interests' and promised to 'strive as much as we can to deal blows to the Jews inside Israel and outside it.' Shortly thereafter, he released a videotape in which he responded to a question as to why Al-Qaeda avoided attacking Israel: 'Does the person asking the question not know that Al-Qaeda struck the Jews in Djerba, Tunisia and Israeli tourists in their hotel in Mombasa? We promise our Muslim brothers that we will do our best to strike the Jews both inside and outside Israel, and with the help of Allah, we will succeed.'
"There are many other radical Muslim religious leaders who call for murder. For example, Supreme Guide of the Muslim Brotherhood in Jordan, Sheikh Himam Sa'id stated in an address to Palestinians in Hebron that 'you are now waging a war against the Jews. You are well versed in this. We saw how, on a day in 1929, you slaughtered the Jews in Hebron. Today, slaughter them in the land of Hebron. Kill them in Palestine.'
"British, American, Israeli and other security services have sometimes publicized their interception of terrorist plots against Jewish and Israeli targets. Jewish communities continue to receive discreet alerts to enhance security at communal buildings. However, their security situation is unlikely to improve in the coming years, although there is now a greater recognition of the threats they face."