No word yet on how Holocaust trivializer Mahmoud Abbas has taken to the news.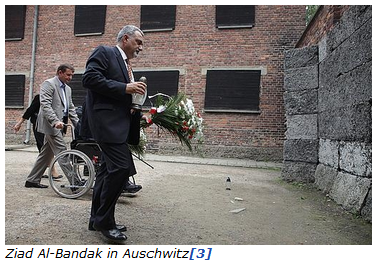 Hamas-Affiliated Columnist 'Issam Shaur: "Who Among Us Believes That Hitler Burned Six Million Jews?"
PA Official's Auschwitz Visit Evokes Enraged Responses from Hamas
On July 27, 2012, Ziad Al-Bandak, an advisor to Palestinian Authority President Mahmoud 'Abbas on Christian affairs, visited the Auschwitz concentration camp, laying a wreath at the Death Wall and lighting a candle in memory of the Holocaust victims.[1] The visit was at the invitation of a private Polish foundation promoting tolerance. Several days prior to the visit, he met with Polish Undersecretary of State Boguslaw Winid.
Al-Bandak's act sparked furious responses from Hamas and Hamas supporters. The movement's spokesman, as well as columnists on websites affiliated with it, stated that the visit served the interests of Israel, which presents itself as a victim by spreading the "lie" of the Holocaust.
The following are excerpts from some of the responses:
Hamas Spokesman Fawzi Barhoum: "The Visit Helped Israel To Spread The Lie Of The Holocaust"
Hamas spokesman Fawzi Barhoum said: "The visit helped Israel to spread the lie of the Holocaust, and does not serve the Palestinian cause. It has been clearly proven that the Israeli narrative [of the Holocaust] is fraudulent. [The Israelis] exaggerate what happened in order to garner international sympathy, which for years has come at the expense of the Palestinians."
Barhoum added that the PA was financially bankrupt and was therefore taking small steps of this kind in hopes of extracting itself from the crisis by winning international sympathy. He assessed, however, that the visit would not achieve this, but would only provoke the Palestinian people and thus create a new crisis for the PA.[2]
Ziad Al-Bandak in Auschwitz[3]