OIC and IOC, working together for a new future.

There is every reason to believe that the IOC has been influenced by some very big influential forces, the Organization of the Islamic Cooperation has infiltrated every world organization and body. It's not a conspiracy theory when it's a proven fact.
OBJECTIVES 
To strengthen Islamic solidarity among youth in Member States and promote Islamic identity in the fields of sports.
NOTE: You can safely bet that if it were a group of Muslims murdered at the Games, instead of Jews, a moment of silence would be observed.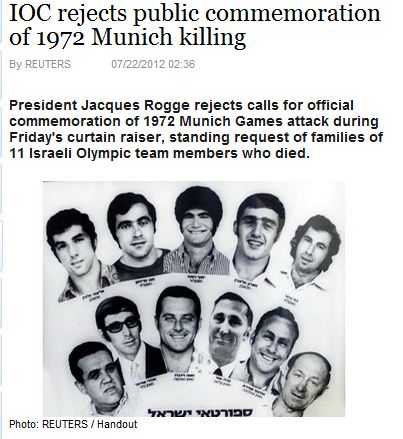 LONDON – The IOC has ruled out marking the 40th anniversary of the Munich massacre at the London Olympics opening ceremony but will visit the airfield where some Israeli team members were killed, it said on Saturday.
International Olympic Committee President Jacques Roggerejected calls for an official commemoration of the 1972Munich Games attack during Friday's curtain raiser, a standing request of the families of the 11 Israeli Olympic team members who died.
Rogge said there would be the traditional private commemoration with the Israeli Olympic Committee and the IOC but no minute's silence at the opening of the Games.
"We are going to pay a homage as we have done in the past and will do in the future. That is what we are going to do," Rogge told reporters.
"We feel that we are able to give a very strong homage and remembrance within the sphere of the national Olympic committee," he added. "We feel that the opening ceremony is an atmosphere that is not fit to remember such a tragic incident."