I first came across the study referred to by Dr.Gerstenfeld back in May, as I said back then, it was a total whitewash of the problem of anti-Semitism in Norway. Dr.Gerstenfeld then had an op-ed published at YNET addressing the glaring inconsistencies in the study and now has another article he specifically wrote for Dagen under his right of reply to the articles of Furess and Hove which was recently published in the Norwegian paper, Dagen.
I am publishing the English version first (with a footnote not published online), followed by the Norwegian trsanslation below the fold.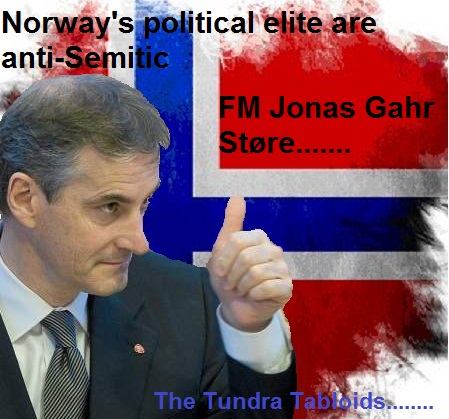 FAR MORE ANTISEMITES IN NORWAY THAN STUDY SHOWS
By Manfred Gerstenfeld
Dagen recently published articles by Kristina Furnes and Odd Sverre Hove as reactions to my article on Norwegian anti-semitism on the Ynet English website of Israel's largest daily, Yediot Achronot.
In the absence of a Norwegian translation of my article, I summarize its essence. A recent study by the Oslo Center for Studies of Holocaust and Religious Minorities contains interesting information on Norwegian anti-Semitism. The report states that 12.5% of Norwegians can be considered prejudiced against Jews. [1] Its own data however, show that this hate phenomenon is far more widespread than the study admits. The lower reported figure is only reached because it does not use the common European definition of contemporary anti-Semitism.
The report also states that 38% of Norway's populace considers Israel's treatment of the Palestinians similar to the Nazi's treatment of the Jews. According to the European definition, these are anti-Semitic views. If one applies this percentage to the number of adult Norwegians, there are about 1.5 million part-time anti-Semites in Norway. They are also ideological criminals because they falsely accuse Israel of planning the most extreme misdeeds imaginable. I wrote further that several Norwegian government ministers are part-time anti-Semites.
After my article, the Norwegian embassy in Israel contacted Ynet. It was offered a right of reply as well as a meeting which I would attend. Apparently, the embassy did not want to debate me. A few years ago, the Jerusalem Center for Public Affairs invited the Norwegian embassy to a lecture of mine on Norwegian anti-Semitism. Thereafter, the embassy representative was immediately given right of reply, but did not want to say anything. Several senior Israeli diplomats present tried to convince her that diplomats customarily defend their country. She still refused to reply.
This time, the Norwegian embassy asked Ynet to transmit questions to me. The only important one was why do I consider Norwegian Prime Minister Jens Stoltenberg a part-time anti-Semite?
I gave a lengthy written answer to the embassy. It contained many examples. I pointed out that Stoltenberg spoke on 1 May of this year at a trade union demonstration in Bergen. There Israel was the only foreign country fiercely attacked by the participants. Such a double standard is defined as an anti-Semitic act to which Stoltenberg didn't react in his speech there. Thus, he became co-responsible for it.
In a letter to the Norwegian ambassador in Washington in 2010, U.S. Senator Sam Brownback listed a number of anti-Semitic acts by the Norwegian government. It mentioned for instance how the Norwegian government funded the trip of two extreme leftwing Norwegian doctors to Gaza during Israel's "Cast Lead" campaign. They de facto became mouthpieces for Hamas, a movement whose platform calls for genocide of the Jews. Stoltenberg phoned these propagandists of Palestinian murderers and told them that "all of Norway is behind you."
Stoltenberg as Norway's Prime Minister, is responsible for anti-Semitic acts perpetrated by his government. These include for instance, the Norwegian embassy's financing of an anti-Israel hate exhibition by the painter Håkon Gulvåg in Damascus, the capital of the criminal Syrian government. As Labor leader, Stoltenberg is also responsible for anti-Semitism emanating from his party. As a by-product of information on the Utoya mass murders by the Norwegian criminal Anders Breivik, it became known that this AUF hate mongering camp had incited youngsters from the age of 14 years old against Israel. Pictures published online illustrate this.
The Norwegian embassy in Israel has not reacted to my information. I assume that they have no answers to what I say. Nor did the embassy take up the right of reply at Ynet, but cowardly left it to a Norwegian student, Kristina Furnes to write. That she was unable to come up with any relevant answers has already been exposed in Dagen by Odd Sverre Hove.
1.)  fra.europa.eu/fraWebsite/material/…/AS-WorkingDefinition-draft.pdf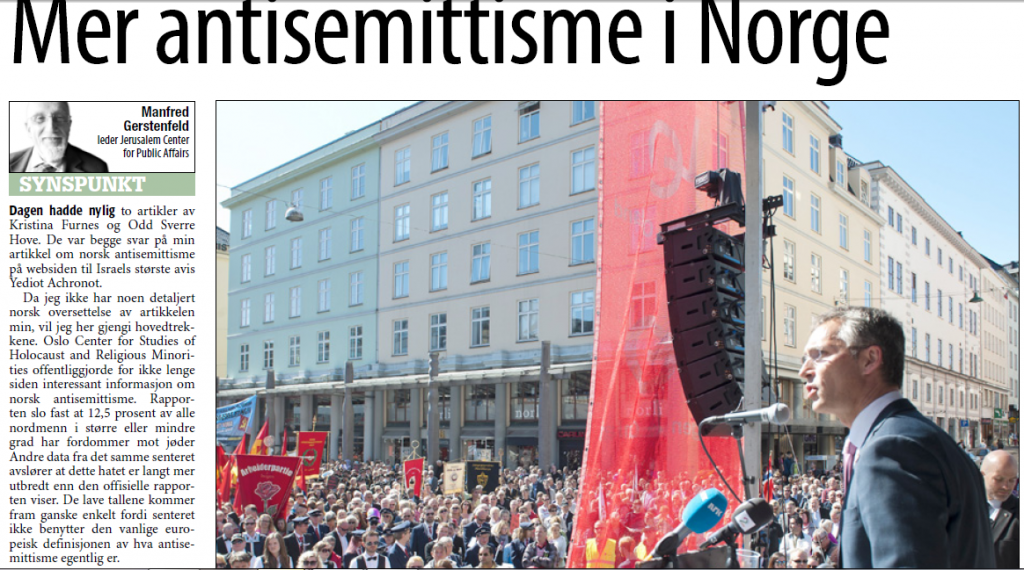 Rapporten slår også fast at 38 prosent av Norges befolkning sammenlikner Israels behandling av palestinerne med nazistenes behandling av jødene. I henhold til den europeiske definisjonen er dette antisemittiske holdninger. Disse 38 prosent betyr at 1,5 millioner voksne nordmenn faktisk er antisemitter. Disse er ideologisk usanne fordi de feilaktig sammenlikner Israels handlinger med de mest grusomme handlinger historien noen gang har sett. Jeg skrev også at flere norske ministre delvis er antisemitter.
Etter at artikkelen min var kommet på trykk, kontaktet den norske ambassaden i Israel den israelske nyhetsweben Ynet. Der fikk de anledning til å svare skriftlig, og dessuten til å delta på et møte der jeg også skulle delta. Men ambassaden ønsket tydeligvis ikke å debattere med meg.
For noen få år siden inviterte Jerusalem Center for Public Affairs
den norske ambassadøren til en forelesning jeg hadde om antisemittismen i Norge. Straks etter forelesningen fikk representanten fra ambassaden muligheten til å svare, men hun ønsket ikke å gi noen kommentar. Flere israelske diplomater som var tilstede fortalte henne at det var vanlig diplomatisk skikk at ambassaden fikk anledning til å forsvare landet sitt. Men hun nektet fortsatt å gi noen kommentar.
Denne gangen ba den norske ambassaden Ynet stille meg noen spørsmål på deres vegne. Det eneste viktige spørsmålet jeg fikk var hvorfor jeg mente statsminister Stoltenberg var delvis antisemittisk.
Jeg ga ambassaden et grundig svar med mange eksempler. Jeg pekte på at Stoltenberg i år talte på 1. maifeiringen i Bergen. I toget ble Israel som eneste land utsatt for et voldsomt angrep. En slik handling defineres for antisemittisk, men Stoltenberg nevnte ikke dette angrepet med et ord i talen sin. Dermed ble han medansvarlig for dette.
I et brev til den norske ambassaden i Washington i 2010, påpekte den amerikanske senatoren Sam Brownback at Norges regjering hadde bidratt til en rekke antisemittiske handlinger. Han nevnte blant annet hvordan den norske regjering finansierte reisen til Gaza for to venstreradikale leger under Israels «Cast Lead»-offensiv. Disse to var de facto talerør for Hamas, en organisasjon med det uttale mål å utslette Israel ogbegå folkemord på jødene. Stoltenberg ringte disse talsmennene for de palestinske morderne og
fortalte dem at «hele Norge står med dere».
Som Norges statsminister står Stoltenberg ansvarlig for alle antisemittiske handlinger og uttalelser regjeringen kommer med. Det inkluderer for eksempel den norske ambassadens finansiering av en antiisraelsk utstilling av maleren Håkon Gulvåg. Denne hatutstillingen var i Damskus, hovedstaden til den kriminelle, syriske regjeringen.
Som leder for Arbeiderpartiet er Stoltenberg også ansvarlig for alle antisemittiske synspunkter som norske regjeringsmedlemmer har kommet med. I forbindelse med informasjonen om de mange drapene massemorderen Anders Behring Breivik begikk på Utøya, kom det fram at AUF-leiren der