And the biased media and self anointed political elite dare call these lads….'extremists'.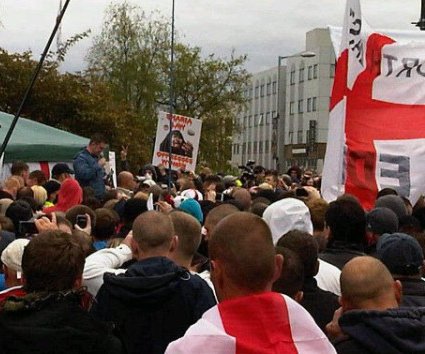 Death threats sent to two EDL members ahead of Bristol march
This is Bristol: POLICE have confirmed that two members of the English Defence League have been sent death threats ahead of their controversial march in Bristol this weekend.
But the far-right (TT: English human rights group) group's march in protest at what it calls the "Islamification" of Bristol will still go ahead on Saturday afternoon.
Avon and Somerset police confirmed to the Post that officers had issued two individuals with notices known as Osman Warnings.
They are made when police have intelligence of a threat but not enough evidence to justify the arrest of any suspect.
The notices were introduced after a legal ruling that police have a "duty of care" to warn any individual if they are in danger.
The revelation comes after three men appeared in court earlier this week, charged with terrorism offences which are being linked to a planned attack on an EDL march in Dewsbury, West Yorkshire.
The men were arrested after shotguns, a nail bomb and machetes were found in a car stopped by police on the M1 motorway near Sheffield last Saturday. The vehicle also contained a note addressed to the "English Drunkards League", an apparent reference to the far right EDL, which was planning a rally that day.
The three arrested men, from Birmingham, have been charged with preparing an act, or acts of terrorism and are due to appear at the Old Bailey on July 31.