I think he just 'one upped' the supreme court.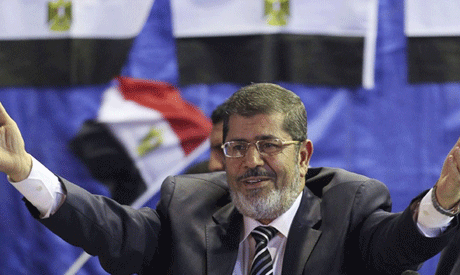 Egypt's Morsi annuls dissolution of parliament: MENA
Egypt's new President Mohamed Morsi annulled the Supreme Court's dissolution of the Islamist-dominated parliament on Sunday, the official media said, setting the stage for a possible confrontation with the military.
"President Morsi has issued a presidential decree annulling the decision taken on June 15, 2012 to dissolve the people's assembly, and invites the chamber to convene again and to exercise its prerogatives," the MENA news agency said.
His move risks heightening tensions with the Supreme Council of the Armed Forces (SCAF), which took over after the ouster last year of long-time strongman Hosni Mubarak, after a popular revolt.
The news agency said the SCAF convened an "urgent meeting under the chairmanship of Field Marshal Hussein Tantawi to discuss the presidential measures."
MENA said Sunday's decree stipulates "the organisation of elections for the chamber, 60 days after the approval by referendum of the country's new constitution and the adoption of a new law regulating parliament."