In mustard land, the totalitarians decide what's what.
I reported on this the other day, but here it is again, this time the people are taking note, if walking hand in hand with your fiancee is a crime punishable by death, then more is in store fro them.
H/T: Vlad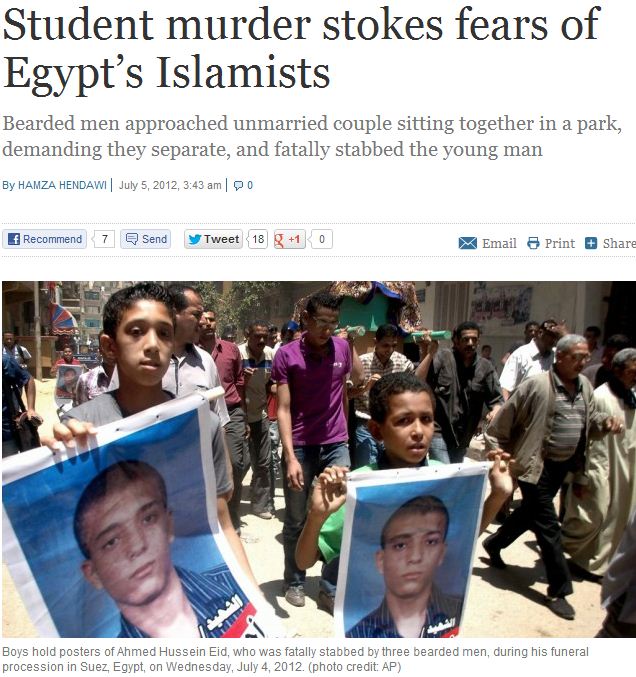 CAIRO (AP) — Three bearded men approached a university student and his girlfriend during a romantic rendezvous in a park and ordered them to separate because they weren't married, according to security officials. An argument broke out, ending with one of the men fatally stabbing the student.
The June 25 attack has alarmed Egyptians concerned that with an Islamist president in office, vigilante groups are feeling emboldened to enforce strict Islamic mores on the streets.
Islamists, including members of one-time violent groups, were empowered after last year's ouster of Hosni Mubarak's secular regime by a popular uprising. They formed political parties and won about 70 percent of parliament seats in elections held some six months ago, although a court dissolved the legislature.
Moderate Muslims along with liberal and women's groups now worry that Mohammed Morsi's presidency will eradicate what is left of Egypt's secular traditions and change the social fabric of the mainly Muslim nation of 82 million people.
Some activists say Islamists already are flexing their muscles in areas outside Cairo and other main cities, taking advantage of the absence of civil society groups and tenuous security in the areas.