The article also mentions the fact that:
" Xinjiang province has seen its fair share of ethnic violence in the recent years fueled by the growing resentment between the local ethnic majority of Muslim Uyghurs and the relatively more affluent Han Chinese residents."
NOTE:  You've got to admire the 'hands on approach' by both crew and passengers.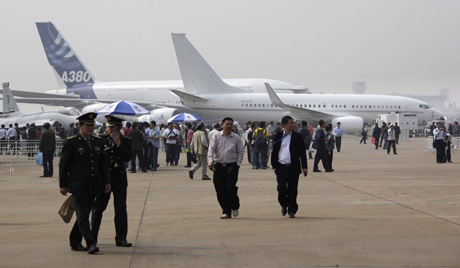 Chinese Passengers, Crew Thwart Attempted Plane Hijacking
An attempted hijacking of a Chinese passenger plane was thwarted today by crew members and passengers in the skies above the restive western Chinese province of Xinjiang.
Tianjin Airlines Flight 7554 was carrying 100 passengers from Hotan Airport to the regional capital of Urumqi when, 10 minutes into the flight, six men allegedly attempted to hijack the aircraft, according China's Xinhua News Agency.
Crew members and passengers were ultimately able to subdue the men and the flight was rerouted back to the desert town of Hotan, where the hijackers were immediately taken into police custody.  Two in-flight policemen were seriously injured in the altercation while a flight attendant and seven of the passengers sustained slight injuries,  according to authorities.
The police did not reveal the identities of the six men and made no mention whether they were armed.
A spokeswoman for the Xinjiang regional government told the BBC that the hijackers were from the Uyghur minority group and tried to break into the cockpit using a broken crutch as a weapon.
Pictures and accounts of the incident soon appeared on China's microblogging site Sina Weibo.