Though worded differently, that was in essence what he was stating, "The people voted for Islamic tyranny over that of the military's tyranny, so the peoples' voice should be heard."
I just recently published the findings of a study in Germany concening the opinions of German youth, of which half, and over that amount, are unsure about Hitler's Nazi regime and the DDR of being dictatorships. Seeing that Western governments are falling over each other to not only recognize, but to heap kudos upon the Muslim Brotherhood for its electorial achievements, is it any wonder why German youth have a problem identifying tyrannies?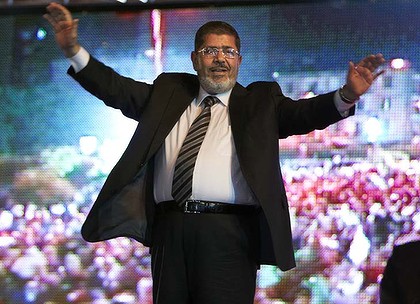 Egypt's Mursi: No power above people power
By REUTERS
06/29/2012 20:18
President elect takes informal oath of office in Cairo speech to supporters, slams generals for trying to limit his power.
Egypt's Islamist President-elect Mohamed Mursi took an informal oath of office on Friday before tens of thousands of supporters in Cairo's Tahrir Square, in a slap at the generals trying to limit his power.
"I swear by God that I will sincerely protect the republican system and that I respect the constitution and the rule of law," Mursi said to wild cheers from the crowd, many of whom were followers of his once-banned Muslim Brotherhood.
"I will look after the interests of the people and protect the independence of the nation and the safety of its territory," said the bearded Mursi, in an open-necked shirt and suit.