Norwegian media takes notice of Fjordman's text of his own testimony he would have given if he decided to testify at the Breivik trial. Fjordman nails it shut, surprisingly the Norwegian media picks it up and even links to the GOV blogpost.
H/T: Baron Bodissey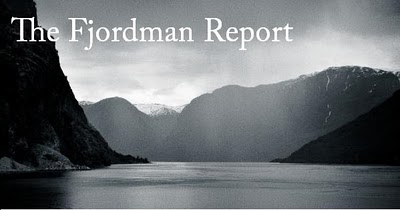 Fjordman published his own testimony on the Web
VG: Blogger Peder Nøstvold Jensen, who is known under the pseudonym Fjordman, published Tuesday what he called a proposed testimony.
Jensen did not have to testify in court, but has now come up with an alternative testimony.
In the text which he has published on the siteGates of Vienna , he comes with salty criticism of Breivik, mass murder the man's ideas and his so-called manifesto , where Jensen is quoted several times.
– Breivik's so-called manifesto can only be described as a pure worm works, Jensen writes, stressing that some texts are logically coherent, but it is solely because Breivik not have written them himself.
– Overall, there is a strong incoherent text, a confused product of a very confused mind. The compendium is ridiculously badly edited and gratuitous far in the number of pages. It is difficult to understand that Breivik said to have spent several years on this, he writes.
BACKGROUND: Breikviks model is presented in VG
Jensen, that their choice did not have to testify in the trial, wrote that the length of the 1,500 pages means that he is left with the impression that the manifesto's main function is to highlight Breivik's greatness as a person.
Peder Jensen Nøstvold takes up a number of topics in the text where he asks the questions and can even respond. Something he discusses, is the existence of the organization Knights Templar.
– I indicated to the police in 2011 that I have no knowledge of a terrorist organization, Knights Templar and strongly doubts its existence.
– I do not think that such a hypothetical organization, if it had actually existed, would be interested in a person without education, military experience, practical expertise and political networks of meaning. Breivik's self-centered personality would also hampered cooperation. It's nice to see that the police after a year's investigation appears to have reached the same conclusion, he writes.
The violence is the goal
The man who for several years published the Islam-critical texts on the Internet under the pseudonym Fjordman is also interested in Breivik's cartoon-like reality and ideology that he believes is centered around violence.
– Breivik ga early during the trial indicated that his role models are anyone who uses violence, regardless of ideology, international and national socialists as well as militant Muslims. In the case of Anders Breivik Behring, there is reason to believe that violence is not a means to reach a certain goal, but rather that violence is the goal in itself, writes Jensen.
He also says that he was politically active in left-wing teens, and that he too would have been a natural target for Breivik.
– When I was 14-15 years, as the youngest victims of Utøya, I attended membership meetings of the youth organization of the Socialist Left Party, which is to the left of AUF. Breivik would also killed me when I was your age, he writes.
Conversion
Jensen, who has followed the trial closely, believes that Breivik's performances to be "martyrs" through mass killing is strongly influenced by Islamic beliefs. This is also something Breivik openly admits in the manifest.
– With his fascination with violence, terrorism and videos of beheaded affiliations exhibit Breivik such an obvious kinship with Muslim jihadists that it should not surprise anyone if he converts to Islam in prison, writes Jensen.