Sadly, this new outrage does not come as a complete surprise. Dr.Manfred Gerstenfeld just published an article at YNET yesterday, concerning the recent report on anti-Semitism in Norway commissioned by the Norwegian Holocaust Institute. Incredibly, it downplayed the anti-Semitism while showing its own fact finding was skewed by the questions asked and what wasn't asked. Norway is an embarrassment, pretending its a moral, humanitarian state, while its populace is driving out its Jews.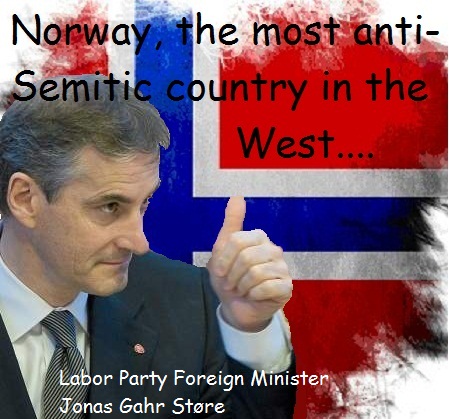 – The situation would have been quite different, the mother says. She is convinced that this  last episode at the barbecue party has an anti-Semitic motivation. One of the reasons why the boy's father returned to Israel, was that he suffered anti-Semitism in Norway .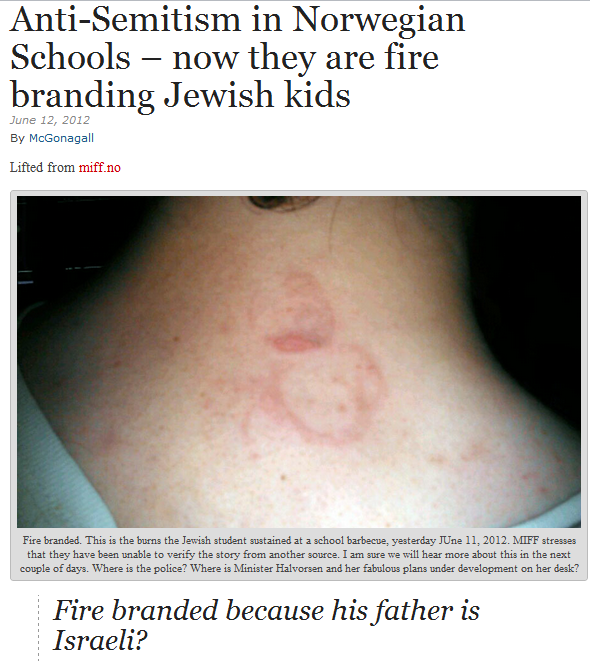 Two years ago, when her son was in eighth grade, his mother told the NRK evening news about anti-Semitic harassment. The last school year has been better for the boy in the Oslo school, until yesterday. Then, he was fire branded.
By Conrad Myrland Published: 06/12/2012, at. 3:49 pm Updated: 06/12/2012 at. 4:49 pm
MIFF has gained access to a private cell phone image showing the result of the attack which took place at a school barbecue for the senior class, this Monday (June 11, 2012). The 16-year-old boy was enjoying his grilled chicken when a red-hot coin was placed on his neck by a fellow student, an ethnic Norwegian. The coin made a very visible burns on the boys neck.
– It was one of the regular anti-Semites [in the son's class] who heated the coin on the grill and pressed it onto the neck of my son. The red hot coin burned through to the flesh, the mother told miff.no on Monday night. On Tuesday afternoon she explains that a teacher observed the incident and told the culprit "you're mad." Yet no representative from the school made contact with the mother afterwards.
More here at Norway,Israel and the Jews Blog